Critical Considerations When Designing Individual International Private Medical Insurance Plans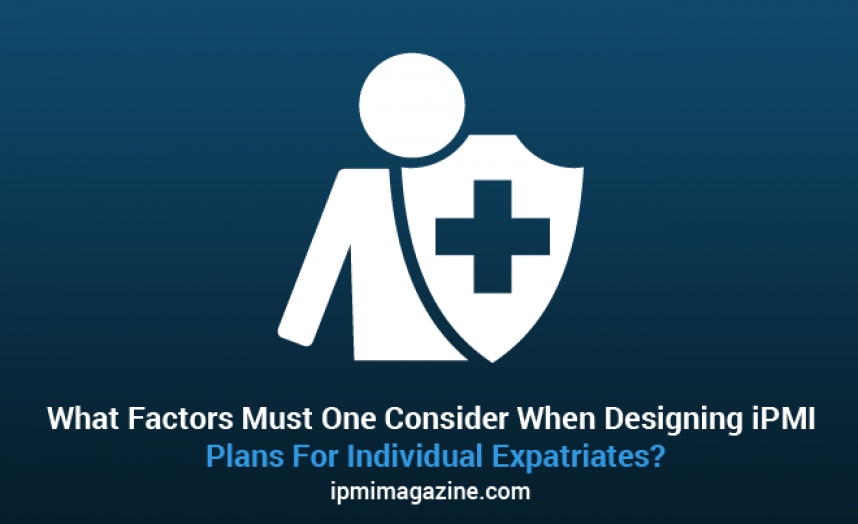 Introducing a business into new emerging markets is the response from worldwide business owners to the preeminent mega trend that is globalisation. Establishing a global footprint may be of pivotal importance to a wide range of industry, and according to PWC, cross-border assignments are showing no signs of a slowdown.
In fact, 59% of CEOs plan to send more staff on international assignments with predictions that global corporate travel and international assignments will increase 50% by 2020.
But it isn't just business crossing borders. Leading research firm Finaccord forecasts that students will constitute the most rapidly growing category of expatriates worldwide between 2013 and 2017, increasing at a compound annual rate of 3.6%, followed by individual workers (3.2%), retired expatriates (2.9%), corporate transferees (2.8%) and other expatriates (2.3%).
Total number of expatriates worldwide in 2013 amounted to around 50.5 million, with Saudi Arabia hosting the highest number and India exporting the most. This figure has grown at a compound annual rate of 2.4% since 2009. By 2017, Finaccord forecasts that the number will reach around 56.8 million.
"Global mobility has increased significantly over the past decade and expatriates constitute a large and diverse market" comments Tobias Schneider, a Consultant at Finaccord. "According to this analysis, the majority of expatriates in 2013 were classifiable as individual workers (73.6%) followed by students (8.8%), retired expatriates (3.7%) and corporate transferees (1.0%), with the balance of other expatriates (defined as non employed spouses and children) making up the residual 12.8%."
Whatever the motivation is to move overseas the health and safety of an individual must be of critical importance as Duty of care is a legal and moral obligation. Assignments may include areas of the world where social infrastructure, communication, and utilities are primitive, or even nonexistent. This can have a dramatic effect on the overall welfare of an individual, as they struggle to come to terms with foreign surroundings and unknown cultures.
In a recent International Private Medical Insurance Magazine executive round table business forum, we spoke with leading C-Level insurance executives about the critical considerations one must take into account when designing international medical and health insurance plans.
What Factors Must One Consider When Designing International Medical And Health Plans For Individual Expatriates?
ANDREW APPS ALC Health*: The internet has allowed consumers to become a great deal more informed about what cover is available to match they individual requirements. No longer are consumers prepared to accept a 'one size fits all' solution, so the importance of taking a flexible approach to medical insurance plan design has never been more important.
Plans need to take into account local medical amenities and in turn allow policyholders to elect where they wish to be treated and by whom.
Plans also need to offer the flexibility which allows consumers to add in / take out those benefits which quite simply they cannot use. It is madness that a single man should be forced to pay for routine maternity cover, a benefit that clearly they cannot use simply because they want to buy a top of the range plan. It sounds obvious but many international plans still insist on including routine maternity care as an integral core element of their plan design.
Furthermore, for many expatriates and particularly those living and working in Europe, they simply do not need global cover as they are living and working in a capital city and not travelling on business (with or without elective USA cover) Giving people a choice is key.
 Of course one of the over-riding issues will always be the cost of iPMI and to the consumer this is particularly important given that in most instances, the responsibility for paying the premium rests squarely on their shoulders, so offering both a choice of payment and excess options will make any plan that much more attractive.
But we mustn't forget that for the average expatriate, we are their lifeline when they get injured or taken ill and the first people they turn to when they need help at 3.00am in the morning.
Efficient customer support day or night and a true 24/7 help line is imperative, as is a compassionate approach to customer service in general. Bedside manner is all important. At the end of the day, we cannot simply treat customers as 'numbers' and expect them to put up with sub-standard service.
At ALC Health we take customer service extremely seriously and are proud of how we deliver a level of support that ensures our members can justifiably rely on us day or night no matter where in the world that they find themselves.
PHIL AUSTIN CIGNA: In an ever more competitive marketplace, plan design and innovation is crucially important to retain an edge in the market and bring new services to our customers. Customers want the flexibility of being able to build a plan which fits their exact needs, they need to know that their insurer has the global capabilities to be able to provide the treatment they need when they need it, and ever more importantly they want online services and apps to make their lives easier.
Flexibility
When it comes to designing a plan, we know that customers and brokers alike need flexibility. A modular plan design means the customer does not need to purchase services they will not use, after all if the customer does not need cover for Vision and Dental care, then why should they pay for it? Expats are looking for flexibility to build a plan which suits their needs as well as their budget.
By offering a completely modular plan design, along with a wide range of deductibles and cost share amounts, we can help customers to build a customized plan which fits their needs as well as their budget.
Service Capabilities
Service is also very important. Cigna has a reputation in the market as a provider of first-rate customer service, and our individual expatriate product is no different. With a 24/7 customer service line which is answered by a real person, customers can get access to treatment wherever they are in the world. If it's an evacuation from a remote area of Borneo at 3 o'clock in the morning, we're there.
Technology
Expats are usually tech savvy, and demand online services which they can use to access their health care plan on the move. Following the completely online sales and underwriting process, customers get access to the Cigna Global Customer Area which provides online claims submission, checking on progress of claims, access to all important documents and health & wellbeing services.
From later this year, customers on our Gold and Platinum plans will benefit from Safe Travel by Cigna, a new app for Apple and Android devices which provides up to the minute global travel advice, country information and an SOS tracking feature which when activated will alert a predetermined emergency contact of an impending danger.
BRENDAN SHARKEY GEOBLUE: It is most important to always bear in mind that expats are typically learning to function in a new culture and sometimes face major challenges when conducting what would be routine business at home.
That's why expat health insurance plans should place a premium on personal, concierge level service and robust, seamless coverage. Their health insurance carrier should strive to be a true partner in helping them meet their goals for their time abroad.
Many expats prefer to return to their home area when dealing with a complex major healthcare episode. As such, the plan should provide an option to be covered at home and the benefits should mirror coverage in the host country. If pre-existing conditions are covered abroad, they should also be covered at home.
PHILIP WRIGHT Globality Health**: Ultimately, the generic healthcare needs of individual policyholders are similar whether at home or living overseas.
We need to look past these and consider the specific demands of expats, country-by country. These are influenced by the quality and breadth of cover available in the country of residence allied to cost and of course, the acceptability of local treatment.
The demands an expatriate resident in Scotland makes on their iPMI policy are very different to those made in Indonesia for instance. The breadth of benefits and services available must be appropriate to each location.
Increasingly we see demand for local knowledge and claims service provision, particularly as the traditional expatriate market diversifies away from its European 'outbound' roots. As well as enhancing service, this also enables closer control of claims expenditure and a hands-on approach to cost containment, which is a crucial tool of course.
Munich Health has a presence in many markets, through local primary insurance businesses, reinsurance arrangements and service providers which helps us to understand both meta trends and the real behaviour in local markets.
READ THE COMPLETE ROUND TABLE, CLICK HERE.
*At the time of round table publication Andrew was working at ALC Health.
** At the time of round table publication Philip was working at Globality Health.
back to top