Expats, Health Insurance, Impats And Immigrants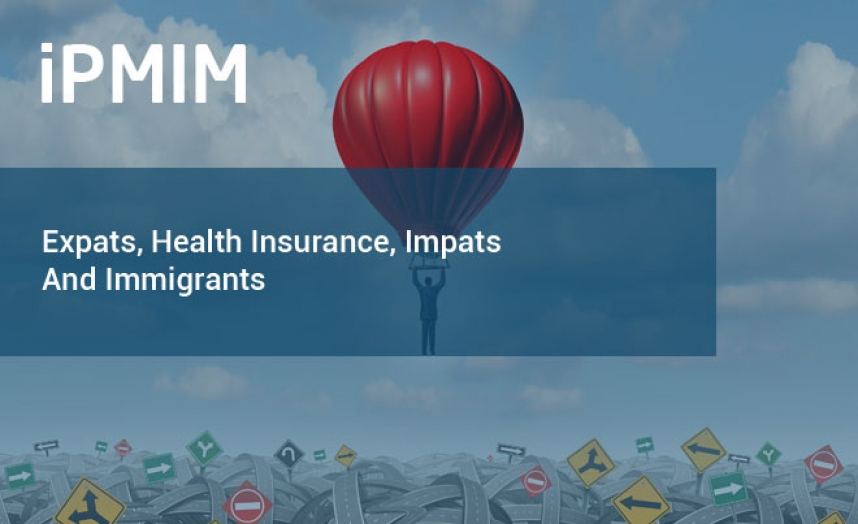 We All Know What Health Insurance And Expatriate Mean, Or Do We? Leading iPMI analyst and report author Ian Youngman offers his personal view on the meanings, with a reader warning that what is correct in one country or continent may be wrong in another. Those using Google Translate: you may end up with something else entirely!
The media, and even the insurance press, use Health Insurance. Medical Insurance, Private Medical Insurance, International Private Medical Insurance (IPMI) and International Health Insurance (IHI) and Expatriate Insurance almost at random.
There is no general agreement on any of them as what the dictionary says and what the insurance practice is - can vary greatly.
Health Insurance can be offered by the state or private insurers, it may be compulsory or voluntary, it may offer treatment in public and/or private hospitals and clinics, and it can be for various categories of person including citizen, resident, visitor, expatriate or even specific categories of worker.
Medical Insurance is often the same as Health Insurance - but is used by some countries to explain limited cover health insurance.
Private Medical Insurance (PMI) is a complex version of Health Insurance as the Private name can apply to either treatment in private hospitals and clinics, or to treatment for private individuals in private hospitals and clinics - or treatment for private individuals in state or private facilities. The logic here used to be that it is a private purchase rather than a state demanded purchase with no choice of insurer or cover. But more countries are making health insurance compulsory either with or without compulsion on which cover to have, which insurer to choose or even whether treatment is in a public or private hospital.
Expatriate Health Insurance (EHI) used to be very simple as it described cover - initially for UK or US expatriates while temporarily working in another country.
It can just cover treatment in the country that the expat lives or works in, just treatment back home, or both, or even treatment in selected countries or even worldwide.
International Health Insurance can be the same as Expatriate Health Insurance or can be cover either in one country, a group of countries or even worldwide for expats or locals or visitors or temporary workers etc.
Last year I even had the misfortune to encounter a group of so - called expert consultants that insisted that health insurance was only for the health insurance cover on a travel insurance product- they remained deaf to my worry that by using data from company and country figures on health insurance-they would distort the results of their report by not understanding that most insurers and countries regard travel insurance and health insurance as two separate categories. If you went to these' experts' for advice on which car to buy they would probably sell you a tractor!
International health insurance can mean health insurance for more than one country, or just a country that the individual is not a citizen or permanent resident of. Or it can mean health insurance arranged in Country A for people in Country B. Or it can mean health insurance in Country A provided in Country A by an insurer that is physically in Country A but owned or part owned by an insurer or other group in Country B.
It used to be so simple - an insurer from Country B offered cover for a person from Country B while they work in Country A - but where the insurer had no physical or even legal presence in B.
And international cover used to just cover non-citizens or non-residents - but now it can cover anyone!
Some insurers and some countries call health cash insurance; top up health insurance, or even accident and illness or even income protection insurance - as health insurance.
Do you ever see Expatriate Car Insurance, or Car Cover??? Car insurance is car insurance - stating the obvious.
Expatriate is another word that has a range of meanings and for some health insurers has become to mean people temporarily working or living in another country.
But there are many contrasting definitions of expatriate, impatriate, immigrant, visitor and non-resident.
Immigrant is a nasty word but Expatriate is a nice word, but they can be the same as it depends on whether they are permanent or temporary. Some Arab countries confuse us by calling all non-residents Visitors. 
Nigel Farage, well known UK tub thumper - is down on immigrants and sees himself as a Brit - not an expat or an immigrant- but as he spends more and more time in the USA and the European mainland- he is in danger of being both- as while the UK tends to think of anybody working outside the UK for over 6 months a year as an expat, the US rule is that anybody in the USA for over 3 months in a year is an impatriate.
An Expatriate used to be someone- often from the UK or USA - that for a few years kept a house in their native country and worked for a few years overseas in one or more countries.
Then as people retired abroad it expanded into someone in a country who was not a citizen of that country.
It then became fuzzier as it also included a citizen of one country that worked or lived in another country and perhaps had no intention of going back to their country of birth.
To complicate matters - there are people - particularly Americans - who are citizens of a country where they have never lived or worked and never ever plan to live or work.
Then we get dual nationalities - but perhaps we better not go there.
Politicians have taken up immigrant as a bad word. But without immigrant workers many countries would be condemned to a place with more retired people than workers, or nobody to do the boring factory, agricultural, domestic, cleaning or retail work.
So when does an expatriate become an immigrant. If you believe some politicians, it is the day they step foot in the country - whether they are working, a family of a worker, a retiree, a refugee or a student or temporary specialist.
Technically - an immigrant is a person who moves from one country- and that does not have to be where they were born or a citizen- to another country on a permanent basis with no intention of returning.
But immigrant has become to mean any worker or person being given social benefits who comes into the country - even if they are intending to go back home after a few years- in which case they are an expatriate worker!
In deciding who gets or must buy health insurance, most countries use the phrase resident - but this gets tricky as residential status varies from after a few days to after five years or never legally defined. Some split the rules by citizens and expatriates.
If by now you still have the will to live - we must also include international students, exchange teachers and workers and lecturers, people who live in several countries as they can afford lots of homes, and refugee.
When does a refugee become an immigrant, or an expatriate become an immigrant, or an immigrant become a temporary worker, or an expat or immigrant become a permanent resident?
Politicians have a lot to answer for by demonising expat workers, and insurers must take the blame for very lose definitions and calling a product by what seems the best sounding name- accuracy is secondary to marketing speak.
But in an age where grammar is ignored, certain insurers make up words to use in press releases, apart from you and I - does anybody care what it is called as long as they make money out of it?
back to top