Discover The Best Practices In Travel Risk Management
Today's interconnected world and global economy means that increasing numbers of employees are required to travel extensively overseas, often for long periods of time, to multiple destinations and frequently to very unfamiliar environments. In this white paper Healix International helps us navigate the maze that is travel risk management and explains the fundamental elements of a professional Travel Risk Management Program.
An employer's 'Duty of Care' towards their personnel has become more complex and increasingly topical. This is especially true when employees are working in remote or dangerous locations where local security and medical facilities are likely to be substandard, ineffective or completely lacking.
Employees working in less developed countries may find that the support networks they are used to just don't exist. They may feel vulnerable and at risk when operating in areas where levels of crime are high or there is an elevated risk of terrorism and governments are volatile. No longer is it acceptable for companies to ignore such issues.
Ensuring the health, safety and security of employees when working overseas is key to staff well-being and productivity but it is also essential in the protection of the company's brand and reputation and is key to ongoing success.
To help you navigate the maze of Travel Risk Management options available, we have put together a series of key 'Best Practices' that, depending on the size and scope of your organization, should be implemented  to provide you and your employees with a robust support system to attend to the myriad of issues facing today's business traveller.
Elements of a Travel Risk Management Program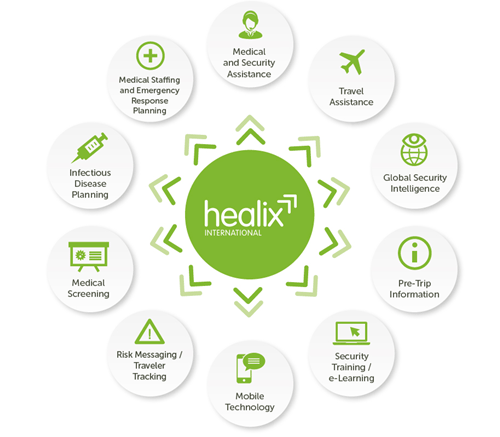 The illustration above captures all of the elements that a robust Travel Risk Management program should contain, though not all organizations would require these resources to be in house. Some elements may be present in other existing programs or attended to by third party providers based on the size and scope of your organization. Each element should be assessed and mapped within your organization's Duty of Care program.
We take a closer look at each element and what is considered best practice for most organizations operating globally today.
Medical and Security Assistance 
Best Practice: Mobile employees should be provided with 24/7 access to medical and security resources. It is best practice for your employees to have access to services on a global basis that meet the health and safety standards of their home country.
So, what does this mean? Well it means that your travelling employees should have direct line access to doctors, nurses and security professionals in cases of concern or crisis, regardless of location or time of day. More importantly, they should feel confident that their call will be answered and managed to conclusion by professionals that can escalate their needs accordingly without unnecessary delay. Finally, they should have access to trusted sources of global support, centres of excellence and advice.
By providing access to appropriate 24/7 resources, employers are demonstrating an investment in their human capital, protecting their brand and reputation, while also limiting corporate liability.
Travel Assistance
Best Practice: Mobile employees should be provided with 24/7 access to travel assistance professionals.
Attending to medical and security situations often carries a greater sense of urgency, however other travel issues such as lost or stolen travel documents, legal or language support is equally as important to the well-being of the traveller and the success of the trip. Through the proper provision of resources, employers can ensure that minor situations are quickly dealt with and don't impede on the traveller's success. Again, these services should be provided on a global basis in order to fulfil Duty of Care.
Pre-Trip Information
Best Practice: Global organizations should provide pro-active, relevant medical and security information to their travellers and expatriates before they leave their home country. Pre-trip advisories should be automatically provided to employees on booking their travel along with additional information that is readily accessible via links to a customized travel website or 'portal'.
In today's 'mobile' world it is important that the information provided is customizable in both depth of content and how a traveller wishes to consume it. By providing relevant and actionable information that is easily accessible, employers can raise the level of awareness and mitigate many of the risks.
As we are never too far away from our mobile devices, content rich apps fulfil many of the needs of today's traveller. Content available can and should include information such as prevailing medical risks and required vaccinations through to travel alerts and warnings pertinent to crime or natural hazards.
Medical Screening
Best Practice: Expatriates and their dependants, and business travellers are medically screened prior to overseas assignment and action taken to minimise any identified health risks.
Many of the illnesses and health related problems suffered by business travellers and expatriates while overseas are both predictable and preventable. Every year large numbers of travellers and expatriates are sent overseas with pre-existing medical conditions and little or no knowledge about how these conditions can best be managed in their destination countries. This can result in major disruption, failed assignments and in many cases serious illness, unplanned medical evacuations and significant costs.
Medical Screening provides an evaluation of potential medical risks involved in any overseas assignments. Screening can be conducted online or over the telephone and the risks are usually calculated by a highly sophisticated analytics program. Screening can help ensure that employees and their families are well prepared for overseas travel and are not put in a position where their health is placed at an unreasonable risk. Host-country healthcare facilities and their ability to deal with pre-existing medical conditions are understood, prescription regimes can be modified where necessary and ongoing medical advice and support can be provided.  Importantly, it helps employers understand the financial risks of certain assignments as well as providing a clear audit trail of proactively managed Duty of Care.
Global Security Intelligence 
Best Practice: Management responsible for the welfare of personnel travelling or working overseas must have access to actionable, near real-time security intelligence. This information must be supported by 24/7 access to highly experienced security risk professionals.
Along with the information that is provided to the traveller pre-trip it is equally as important that those charged with managing the safety of deployed personnel have instant access to more granular security intelligence in near real time. This information helps managers and business leaders to make more informed and strategic decisions concerning their travelling workforce, especially in rapidly deteriorating environments. Additional threat and evacuation reports should also be readily available should situations escalate.
Security Training and E-Learning 
Best Practice: Global organizations should provide travel security training to their travellers and expatriate personnel as part of a certification process.
Training today should be seen as more than just an orientation exercise. Providing travellers with the most up-to-date form of travel awareness training addresses many risks prior to travel. It ensures that travellers are aware of the safety measures they should take while abroad, and can be used in a pre-trip approval process.
Not only does this again demonstrate an investment in an organization's most valuable asset but it can boost productivity and increase the success of a project.
The training should include testing on completion and these scores should be documented to ensure appropriate compliance with today's Duty of Care standards.
Mobile Technology 
Best Practice: Companies of all sizes should utilize today's technology to quickly locate individuals and communicate with them as well as utilizing other essential functionality.
It is important that employers use mobile technology to their advantage as time taken to locate employees during a crisis is directly proportional to the outcome of their health and safety. Supporting protocols and policies allow technology to streamline locating employees, minimizing human error and allowing limited resources to be focused for maximal impact, enabling a rapid response.
Instant access to 'actionable' intelligence via a mobile app keeps travellers updated of developing situations and travel apps with a Mayday function can alert nominated contacts as well as enabling live tracking in a crisis.  Apps today are commonplace, however it is essential that they provide expatriate employees and business travellers with instant access to critical insight and support before, during and after their overseas assignments.
Risk Messaging and Travel Tracking 
Best Practice: Companies should be utilizing technology to locate and communicate with individuals regardless of how they make their travel booking.
By automating the collection of employee travel data through itineraries and traveller check-ins, organizations have a complete view of their staff and operations in near real-time, capturing employee locations. Systems should be set up to capture and verify all the travel data, work and employee locations and display them in one common operating picture. From this dashboard, managers should be able to quickly assess risk and contact personnel on a routine or emergency basis. Intelligence must be sourced, vetted and pushed to travellers, expats and VIPs or other professional users within the organization in as near real-time as possible.
It is important that the organisation has the ability to fully integrate a mass notification system to communicate with all global employees.
By integrating these systems, a robust pre-trip approval process can be implemented allowing for management oversight, adequate training and the provision of additional support services such as drivers, executive protection, medical and security briefings as well as passport, visa and vaccination checks.
Medical Staffing and Emergency Response Plans 
Best Practice: Organizations should ensure that they have adequate medical support for all major projects, sporting events and at remote sites.
During any large event, where demand for medical support may be compromised or slow to respond, it is important that organizations plan and resource effectively to protect the health, security and well-being of staff, guests and any others under its charge. Where traffic due to large crowds or other situations may impede the arrival of emergency response vehicles, it is important to pre-stage vehicles and staff near work sites or living accommodation to ensure appropriate response times.
Physicians, nurses and other medically trained professionals should be available to react immediately in the event of any medical emergency.
Large sporting events such as the Olympics may require accommodation such as hotel suites to be converted into clinics to allow for easy access to routine or emergency medical care.
If the group is of a certain size or complexity, additional consideration should be given to co-locating an emergency coordination centre to manage calls for assistance or provide other support such as language translation and security assistance.
Recent events such as the FIFA World Cup and Olympics in Brazil illustrated the complexity of working in an environment where risks are prevalent and the basic infrastructure strained. Thankfully, nothing major occurred but should something have happened it would have been vitally important to be as self-sufficient as possible, having a set of pre-determined plans in place and the resources already staged and ready to respond to ensure the safety of all concerned.
Infectious Disease Planning 
Best Practice: Employers must have a holistic travel risk management policy and plans in place for the purpose of business continuity, risk mitigation and readiness in a crisis.
Having an overarching travel risk management plan is the first important step that should encompass travel readiness and safety, trip approval and crisis readiness including consideration of infectious diseases, pandemics and natural disasters. Additional localized plans may also be necessary for specific projects or remote sites and employers may offer additional online training across the enterprise to better support the employee base.
An All-Hazard Approach
It is important to acknowledge that it is best practice to consider an all-hazard approach when developing a vigorous Travel Risk Management program, one that is integrated into the enterprise risk management portfolio.
When engaging a third party provider to fulfil these requirements, consider companies that offer a greater range of experience and capability. Consider a company reputable for assessing the wider needs of a business that can tailor a service to suit your own requirements. Choosing to implement a Travel Risk Management program makes sure that you are fully prepared and able to respond in the event of a crisis overseas, thus creating a more resilient company.
Healix International is a world leader in global travel risk management and international medical, security and travel assistance services. Working on behalf of multinational corporations, governments, NGO's and insurers, Healix are relied up to look after the welfare of millions of expatriates, business travellers and local nationals living and working in every country of the world, 24 hours a day.  Many of these people reside in the most remote, challenging and hostile of environments.
 For more information on travel risk management programs please visit: www.healix-international.com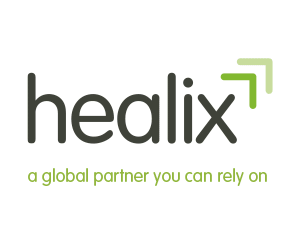 back to top