Top 5 Cost Containment Risks For Insurers In Nepal Featured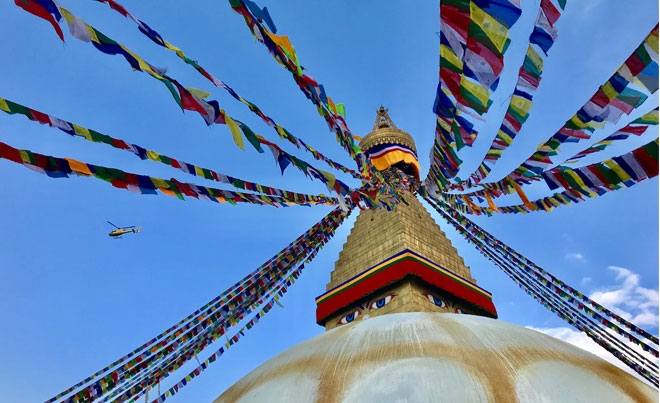 For insurance underwriters, travel insurance brands and assistance providers with risk exposure in Nepal, a recent announcement by Tourism Minister Rabindra Adhikari, of his intentions to bring those responsible for a multimillion dollar insurance fraud scam to justice, is welcome news.
After a 12-month insurance fraud investigation by Traveller Assist into helicopter charter companies and hospitals in Nepal, and following a subsequent 60-day investigation by the Tourism Ministry, 17 companies were named and are expected to be charged in the coming days.
Although we predict this to drastically reduce insurance fraud by both providers and travellers in Nepal, we do foresee that it will not completely stop the fraud. Insurers need to remain vigilant and be aware the cost containment risks they face in Nepal.
We have identified the top 5 cost containment risks in Nepal and how to avoid them:
Pay and claim
A growing trend recently in Nepal is for trekking agencies, helicopter charter companies and local assistance providers to take payment for helicopter and medical bills directly from the traveller, advising them to claim it back from their insurer when they return home. This is the single biggest risk that insurers will face in Nepal. If insurers allow their travellers to pay and claim, there will be no recourse over helicopter costs and medical bills, but most importantly, the traveller becomes the client of whoever is taking payment from them. Therefore the insurer loses the ability to specify which helicopter company and/or hospital to use. There is also little to no chance of being able to assess the traveller before a helicopter is called.
Insurers are strongly advised to include on the travellers insurance policy that if a traveller pays upfront for a helicopter, then there is a chance their claim will be denied.
Inflated medical bills
A vast majority of patients who are medically evacuated in Nepal are experiencing symptoms of Acute Mountain Sickness (AMS), which can lead to HAPE - High Altitude Pulmonary Edema (fluid on the lungs) and/or HACE - High Altitude Cerebral Edema (fluid on the brain). The problem with altitude related illness is that symptoms almost immediately disappear once the traveller descends to a safer altitude. This is what has enabled the helicopter fraud and over-treatment of patients to go on for so long (since 2013). Some hospitals take advantage of this, sending patients for needless tests, including ultrasounds, CT and MRI scans, and placing them on intravenous fluids and medications, meaning they are admitted for longer than necessary and bills are inflated.
Insurers are advised to have their in-house medical doctors and registered nurse case managers to monitor treatment and to regularly speak directly with the patient.
Multiple billing for a single helicopter
A common scam in Nepal is for one helicopter to take multiple passengers, in some cases up to eight, and then multiple bills are sent to each insurer as if the helicopter only rescued one traveller. In one case we investigated, four insurers were billed a total of $68,000 USD for what turned out to be one helicopter with eight passengers squeezed onboard.
For insurers who are okay with multiple passengers on one helicopter, ensure you ask for a copy of the flight manifest from the helicopter operator to confirm how many passengers were onboard, and to confirm that the cost of the helicopter is equally divided between those travellers.
One helicopter flying from Kathmandu to Gorakshep (a common rescue point), via Lukla - and returning back to Kathmandu should not cost any more than $3,800 at the top end of the scale. If there are four passengers onboard, insurers can expect to be billed $950 USD per traveller.
Single invoice for multiple services
Insurers and assistance providers who use local ground-agents, beware of companies who only provide one invoice that includes their assistance fee, the helicopter bill and the medical bill. Always request original copies of medical bills and helicopter invoices, and request a separate invoice for assistance services.
A common tactic we found in our investigation was for fraudulent providers to submit one invoice to insurers, hiding the real costs of both the helicopter and medical fees, and then marking up the costs, sometimes as much as 250% more than the original cost.
On one invoice we found that the insurer believed they were paying a $200 USD assistance fee to their local provider, but in fact they paid $2,800, all because the original costs of the helicopter and medical bill were hidden within one invoice.
Exchange rate fluctuations
When receiving helicopter bills and medical bills from Nepalese companies, they are often in Nepalese Rupees (NPR) and/or USD. It's important to take note of the exchange rate on the day you receive the invoice. Exchange rates fluctuate minute by minute and because most insurers pay their providers within 45-days, in some cases this can mean that insurers are paying hundreds of dollars more at the time of payment. When you receive a bill in NPR, immediately check the exchange rate, especially if you have an agreement with providers to pay in USD. This is even more important if you are transferring GBP to pay an NPR bill in USD.
Conclusion
Unnecessary helicopter lifts, over-treatment at hospitals, over-billing and multiple-billing has long been a problem in Nepal. The response from a few of the fraudulent companies has been to point out that insurers never complained, meaning that they just kept doing it because they knew insurers would pay.
It's every insurance company and assistance provider's responsibility for checking that reasonable and customary costs have been charged to you, and if you believe that you have been overcharged, question it.
About The Author
Jonathan Bancroft is the Managing Director of Traveller Assist. Traveller Assist is a medical assistance and cost containment company that specialises in complex regions, including: Mexico, Caribbean, Central & South America and Nepal. We have over 5,000 medical providers in our independent network, with negotiated rates averaging 19% savings. In addition, Traveller Assist has developed a fintech and insurtech solution for insurers and travellers to pay medical bills and travel expenses abroad, without currency exchange fees. 
For more information please visit https://www.travellerassist.co
back to top