On Business And Sick: Who's There For You?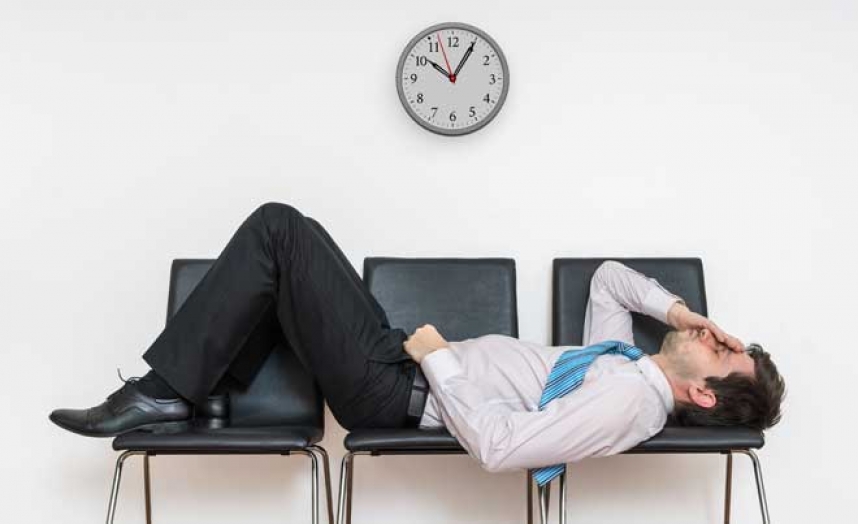 In Mexico for work, a colleague of mine fell ill.
So why write about it? There's nothing unusual about contracting a common illness when travelling: 80% of people experience health issues while on a trip, with varying levels of severity.
What was noteworthy, at least from my point of view, was the unusually convenient and efficient medical assistance my co-worker received. He never left his hotel room, and didn't pay a penny. He simply called a new directional care program offered through his insurance: StandbyMDTM.
A Common Occurrence…
John and I were asked to attend a work-related conference in Mexico earlier this year. Excited at the prospect of leaving the rainy April weather behind for a few days of tropical warmth, and an opportunity to meet some of our clients in their own environment, we both readily agreed.
The day of our arrival, John hoped to soak up some local colour by taking lunch at an eatery down the street. That same evening, he skipped dinner, feeling bloated and clammy. He developed mild, intermittent abdominal pains and experienced bouts of moderate diarrhea.
Realizing his symptoms were unlikely to improve, he began looking up local emergency rooms before remembering that his insurance policy offered medical assistance through a service called StandbyMD. He decided to call them first. It was nearly 11:00 pm.
… An Uncommon Approach
Shortly after dialing the number on his insurance card, John was warmly greeted by a customer service agent, who began with a few preliminary questions to confirm his name, policy number, location and to ensure that John understood he was not receiving a diagnosis from the agent, but would be directed to the appropriate level of care for his symptoms.
These were followed by a few specific questions about the nature of the symptoms, their duration, intensity and whether they were related to any pre-existing conditions. The agent then recommended a teleconsultation with a medical professional. Unfamiliar with the practice, and uncertain as to its capacity to yield an accurate diagnosis, he requested alternative options.
The operator's system informed them of three additional alternatives: John could go to a nearby clinic the next morning; he could have a doctor visit his hotel room later that night; or he could just step into the emergency room of a nearby hospital and wait for someone to evaluate his condition, which could mean waiting most of the day.
Unmotivated by the long wait periods of all three alternatives, John decided to try the original suggestion: telemedicine. Within half an hour of confirming his choice, he received a call on his cell phone from a local physician who questioned him extensively on his symptoms and medical history before providing a diagnosis and issuing a prescription. The appropriate information was immediately transmitted to a local pharmacy and the prescription was quickly delivered to my coworker's hotel room. By morning, he felt much better and could complete his scheduled conferences as planned.
When recounting his experience to me later that afternoon, he expressed appreciation for the convenience and efficiency of the whole process. Although he chose the first of the options presented to him, he found having a variety of available alternatives to be reassuring, especially since he had no idea about where to go or what to do to receive quality care in Mexico.
Anatomy of a Positive Experience
After reflecting on the events my co-worker related to me, I was able to identify some of the elements that made his experience such a positive one.
The most obvious was convenience: the whole thing was done by phone, without John ever having to leave his hotel room. No further action was required: he didn't have to pay out of pocket, or file a claim. Administrative details were taken care of behind the scenes and he received his medication at his hotel.
Because of time constraints, most business travelers, unfamiliar with foreign healthcare systems, tend to head straight to a local hospital, whose wait times can still result in missed meetings and increased fatigue. John's experience resulted in minimal changes to his schedule.
A second factor was speed. The entire process – from initial call to prescription delivery – was completed in about an hour. He was there for business: his stay was short – three days – with a rigid schedule and precise objectives to be met. Time was key. Had he not received such quick, efficient service, important opportunities could have been missed, incurring considerable expenses and even lost clients.
A further gratifying influence was personal touch. He chose the most appropriate type of care, guided by a knowledgeable individual using a comprehensive program. Speed and efficiency did not compromise the quality of care received. The provider was professional, and the results were concrete: his symptoms were treated appropriately and John's health problem was resolved without complications.
Some Closing Thoughts
For John, and for people in similar situations, such a directional care solution can be a valuable safety net. Accurately determining the right level of care within an network of providers, combined with a variety of ways to access medical care essentially rules out costly, less appropriate options.
My colleague is certainly not the only person to have had an inconvenient health condition while travelling. My own experience with foreign healthcare was less savory. Travelling to Brazil a few years ago, also for work, I reacted moderately to the heat and humidity, or something I ate or drank. I still don't know what. When I called my then-insurer, I was directed to seek out either the local hospital. The experience was mostly foreseeable: 12 hours in a sticky plastic chair surrounded by dozens of coughing, sneezing and sleeping strangers before receiving a quick diagnosis and ineffective medication from a doctor with whom I could barely communicate, as I did not speak much Portuguese, and he didn't speak much English.. Ridiculous out-of-pocket fees and an arduous, months-long reimbursement process followed.
John is fortunate to have had a much more positive experience with directional care assistance. I'm intrigued, and certainly not the only one who'd like to know more about how this program works. A service that can provide a degree of comfort to patients by quickly and accurately directing them to the most appropriate care option through easy-to-use technology would seem a realistic aspiration for any company operating in the health and travel insurance industries. People travel more now than ever before, and with this growing mobility comes the increasing need for seamless, worldwide access to quality care assistance in a variety of situations. If, as my colleagues experience seems to indicate, StandbyMD, and services like it, can consistently offer this level of service by going beyond a simple referral, unrestrained by patients' location, schedule or coverage, then almost certainly a new standard is being set for the medical assistance industry.
Related Reading: In Pursuit Of Your Travel Dreams: The Way Forward Is Not Always Smooth
To learn more about StandbyMDTM please click here.
back to top