Nepali Government In Collusion With Private Clinic And Helicopter Company To Close IPPG Volunteer Clinics Featured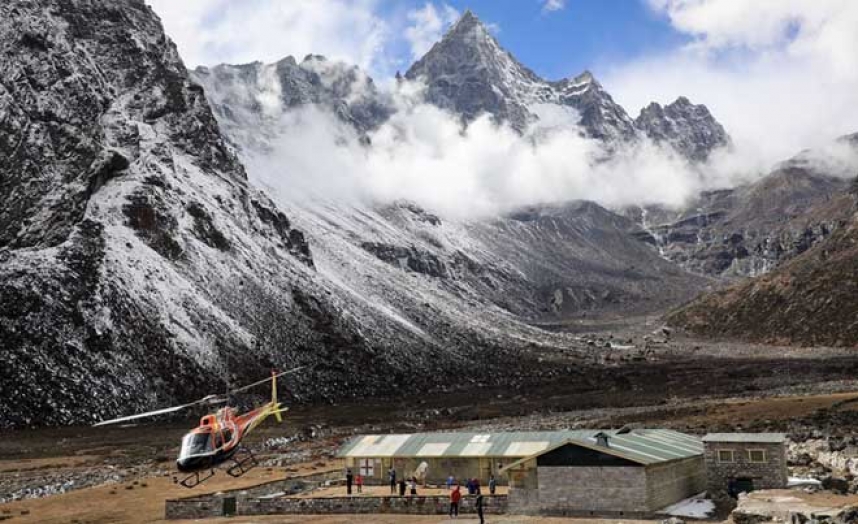 Written by Jonathan Bancroft, Managing Director of Traveller Assist.
For the past two-years, the Nepali government has vehemently denied their involvement in the helicopter rescue scam that has defrauded millions of dollars from foreign insurers and claimed the lives of several trekkers. In fact, the Tourism Ministry has not only denied that the fraud happens at all, but they have also gone as far as to accuse the accusers of lying to frame them, in what has been assessed by PR and legal experts as a coordinated media campaign attempting to cover up the governments involvement.
However, a new deal that has been announced in Nepal appears to show collusion between the Government, a private clinic and at least one helicopter company.
Two well-respected, volunteer mountain and travel medicine clinics that have saved the lives of hundreds of travellers have been forced to close down by the local government who have been pressured into ending their agreement with International Porter Protection Group (IPPG) and Community Action Nepal (CAN).
IPPG had in the past provided free care for porters and local people, as well as providing treatment for trekkers with acute mountain sickness. Only 5% of patients that they saw were evacuated by helicopter, and only then in life-threatening situations.
But, since the new clinic has taken over, it's estimated that over 60% of patients have been evacuated to Kathmandu to a hospital that is partly owned by the same people who also own a helicopter company; and profits greatly from medical rescues.
Gokyo International Medical Centre is a relatively new private clinic set-up to replace IPPG clinics in the Khumbu Region on the Gokyo trekking route, but instead of treating patients in place as IPPG had expertly done in the past, a majority of trekkers are now lifted by helicopter and taken to a hospital in Kathmandu.
Who owns what?
On the face of it, Gokyo International Medical Centre is owned by Tenzing Sherpa who is the owner of Namaste Lodge in Gokyo, and he runs the clinic with his brother who is a junior doctor.
However, the clinic itself is partnered with ERA Health Centre in Kathmandu and is financed by Mr. Bhanu Dhakal (who also owns First Assistance Nepal), Kumar Thapaliya (also owns Mountain Heli Charter Service) and Tashi Lakpa Sherpa (also owns Seven Summit Treks, 14 Peak Expeditions and Sherpa & Swiss Adventures).
The clinic is partnered with Easy Heli Charter Service, a company also owned by Tashi Lakpa Sherpa.
Both ERA Health Centre and Easy Heli Charter Service have both been named by the Government's own investigation in a Kathmandu Post article for billing exorbitant rates, being involved in unnecessary helicopter rescues, over-treatment of patients to increase medical billing and misdiagnosis of patients.
In 2019, Seven Summit Treks were also fined for issuing fake permits to climbers for Everest and in addition, lost seven climbers on 8,000m peaks in Nepal. The family of one trekker was asked to pay $750,000 USD to recover his body.
Nick Mason, Chair of IPPG, a UK-based charity said, "The business model for the new clinic would appear to be to evacuate as many trekkers as possible to Kathmandu where it is alleged they are often subjected to excessive or fictitious investigations and treatment."
IPPG said its doctors faced 'hostility and abuse' from local lodge owners with close ties to the new private clinic.
Heli rescue scam
In 2018, medical assistance company Traveller Assist announced that after a 12-month investigation, they had uncovered a helicopter rescue scam that had defrauded millions of dollars from foreign insurers and had claimed the lives of several trekkers.
On one side, officials from Nepal's Tourism Ministry admitted that the fraud was happening and promised to investigate it, while on the other side, other officials were denying that it happened at all and instead pointed the finger at Traveller Assist. They issued a press release to say that an international assistance company had used lies to frame the governments involvement.
Danny Kaine, Head of Assistance at Traveller Assist, who also spearheaded the insurance fraud investigation said, "Just when we started to gain the cooperation of Tourism Ministry officials to stop the fraud from happening, other government officials derailed these talks by issuing bogus press releases to the local media who of course printed them and by doing so, became complicit in enabling the fraud to carry on."
Nepal's Tourism Ministry said last year that it investigated the scams, issued a report and drafted new rules governing helicopter rescue and medical treatment of trekkers to stop the fraud, but the rules were never implemented.
A government official inside the Tourism Ministry who does not wish to be named has said that the new rules were not implemented because the media pressure was no longer on them to do so and he also admitted that the government does profit, both directly and indirectly from the fraud.
Since 2018, Traveller Assist has deployed expat medical and rescue staff to Nepal at the beginning of each busy season, based at common rescue points, but they have received hostility and threats against them from local business owners who are losing money due to the crackdown on unnecessary helicopter rescues and over-treatment at hospitals.
Between October and December of 2019, Traveller Assist provided medical assistance for 113 cases, 51 of which required a helicopter rescue from 17 different rescue points, and included three horseback rescues to lower altitudes.
Jonathan Bancroft, Managing Director of Traveller Assist said, "It's worth noting that in the same time period, our in-country team has stopped an additional 17 unnecessary helicopter rescues from happening whereby the travellers' said they were almost being forced by trekking companies to be 'rescued' and Guides were using 'scare tactics' to panic the travellers. Our company also investigated over 100 invoices from four different hospitals in Kathmandu that were considered exorbitant and also billed for unnecessary treatment and fictitious treatment."
The fraud is still happening.
Visit Nepal 2020
In a year that is being promoted by Nepal as 'Visit Nepal 2020' where the Government hopes to attract over 2 million visitors to the country, it's imperative that all travel insurance companies educate their travellers on how to avoid being caught up in the scams in Nepal, and for all assistance companies to implement measures to protect both travellers and insurers.
back to top