How is the Ukraine Conflict affecting iPMI and Travel Insurance Markets? Featured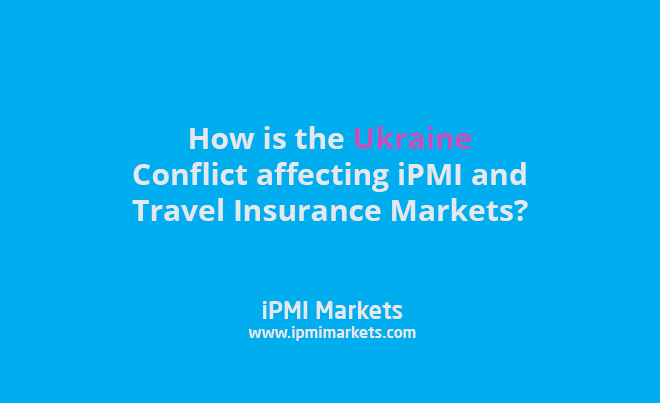 In this article Ian Youngman, Author and Publisher of the upcoming INTERNATIONAL HEALTH INSURANCE 2022 and new companion IPMI market reports, takes a look at how the Ukraine conflict is affecting health insurers and brokers, plus air travel.
SANCTIONS
The European Council and the USA have both adopted an increasing range of restrictive measures against Russia.
There is a full prohibition of any transactions with certain Russian State-owned enterprises across different sectors.
There is a ban on new investment across the Russian energy sector, with limited exceptions.
Most EU insurers and brokers have withdrawn from new investment in Russia.
RUSSIAN INSURERS
Russian insurers are no longer allowed to do business with insurers, reinsurers and brokers from states deemed hostile to Russia. The countries involved include the United Kingdom, the United States, Japan, South Korea, Australia, New Zealand, Switzerland, Singapore, Taiwan and all European Union (EU) states.
TRAVEL
The measures from both sides may make it harder or impossible for Russian travellers to comply with entry rules where countries demand that all travellers have travel health or health insurance. Those countries still seeking Russian business- such as Turkey and the UAE/Dubai who see the conflict as offering business potential to tourists, medical tourists and airlines- will find ways round the problem.
PAYMENT
Russian individuals cannot use debit cards and credit cards from EU or US card providers anywhere in the world- and cannot use Russian or Chinese credit or debit cards in any country that supports the sanctions.
AIR TRAVEL
There is a ban on exports, sales, supply or transfer of all aircraft, aircraft parts and equipment to Russia. There is a ban on the provision of all related repair, maintenance or financial services. EU airspace has been closed to all Russian-owned, registered or controlled aircraft, including private jets of oligarchs.
The seizing of EU owned leased aircraft provides a temporarily respite for Russian air travel but over time the lack of spares and maintenance will mean most are grounded. Three quarters of Russia's current commercial air fleet were built in the EU, the US and Canada. This means that Russia will not be able to maintain its fleet to international standards- so even supporting countries may have to stop allowing Russian planes to land.
RISK FOR INSURERS AND BROKERS
Many are still working out what to do and how. If they have physical assets and investments in Russia they know there is a risk that if they withdraw then, as happened to food companies and aircraft, the state will just seize the assets without compensation.
If they do not stop doing business with Russia they risk prosecution, public opinion and other state action both at home and in sanctioning countries.
If they pull out of Russia it may be impossible to return.
The situation of insuring Russian companies and individuals outside of Russia is a legal minefield- a no win situation.
INSURERS
Allianz is not insuring new business and ceased investing. It is reducing business in an orderly manner but as it has substantial business in Russia has not specifically said it will not offer renewals. Allianz Care has a local office in Moscow and offers local Russian IPMI plans on a group and individual basis. Allianz offers local health insurance via Allianz Life and CJSC Medexpress while owning clinics OJSC My Clinic and LCC Progress-Med  (the provision of healthcare is excluded from sanctions).
AXA has stopped underwriting new insurance business (and stopped all renewals) with respect to Russian-owned assets located in Russia. On AXA's substantial minority financial investment in Reso Garantia, a major Russian insurance company whose activities include health insurance. AXA has no operational or management control over this company and has decided to remove its directors from the board- but retains a shareholding.
Generali has wound down its Europ Assistance operations in Russia, closed its Moscow representative office, and frozen its stake of 38.5% stake in Russian insurer Ingosstrakh that offers health insurance in Russia.
Munich Re suspended new business in Russia and Belarus and will not renew any existing business in those countries. The group had no direct health insurance in either but had reinsurance contracts.
Zurich Insurance is no longer accepting new clients in Russia and will not renew existing business.
Other insurers active in Russia but not offering health insurance there and who have yet to go public on plans include Euroins, Starr and UNIQA.
Vienna Insurance Group has evacuated hundreds of employees and their families from Ukraine- and found them places to live in its own real estate portfolio.
BROKERS
Aon has temporarily suspended operations in Russia where it has offices in Moscow and St.Petersburg.
Marsh McLennan has exited all of its businesses in Russia. It has transferred ownership of Russian businesses to local management who operate independently in the Russian market.
WTW has exited all of its businesses in Russia. It has transferred ownership of Russian businesses to local management who operate independently in the Russian market.
RUSSIAN INSURERS
The Russian insurance market is highly concentrated and closely connected to the country's ruling class and its affiliated business oligarchs. Russian banks have been buying insurers from European and USA insurers in recent years such as Liberty Mutual and MetLife.
RATINGS
Rating agencies AM Best and Fitch have both downgraded a host of Russian based insurance companies- including some owned or part owned by European insurers.
AM Best has suspended all commercial activities in Russia and subsequently ceased offering credit ratings for any Russian insurer- even foreign owned ones.
MORE SANCTIONS
The USA and EU have increased the number of sanctions on individuals and banks with promises of more to come.
The EU has banned coal imports and seeks ways of banning oil imports.
The EU has banned all transactions with most Russian banks.
QUESTIONS
Some Russians have dual nationality- so unless they are on the ever-lengthening list of sanctioned individuals- is it legal to offer health insurance?
Is it against sanctions to offer IPMI to Russian expatriates who are temporarily overseas?
Where overseas companies are only part owned by Russian companies, is it legal to offer insurance?
About The Author
Ian Youngman is a writer and researcher specialising in insurance. He writes regularly for a variety of magazines, newsletters, and on-line services. He publishes a range of market reports and undertakes research for companies and has London market management experience with brokers and insurers. Read Ian's reports here.
back to top