The Beginning Of The End For The International Private Medical Insurance (IPMI) Market Featured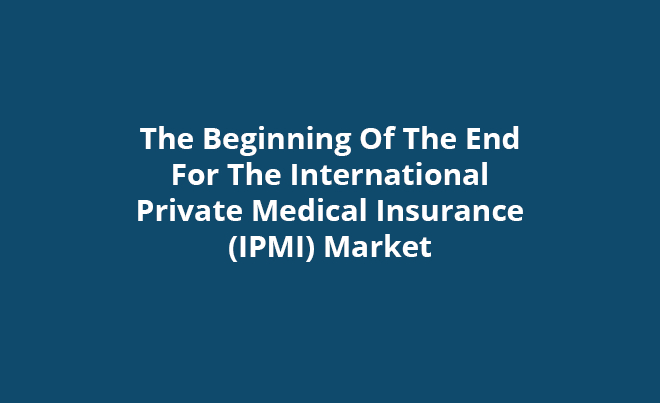 In this article Ian Youngman, Author and Publisher of the upcoming INTERNATIONAL HEALTH INSURANCE 2022 and new companion IPMI market reports, takes a look at how the demise of Aetna International, is NOT the beginning of the end, for the international private medical insurance (iPMI) market.
Aetna's parent CVS has decided to close Aetna International and transfer most IPMI business to Allianz.
Before either Aetna or CVS or Allianz could issue official press releases, Aetna UK sent a memo to brokers that lead to an online magazine whisking out partial news, which led Aetna UK to push out – initially on their website- an official statement that gave some answers.
Across the globe Aetna have several PMI/IPMI partnerships and the future of some of these is unclear but may offer potential for competitors.
Background: CVS
Since being bought by CVS Health, Aetna in the USA has been increasingly intertwined with CVS as the vision is healthcare backed up by insurance.
CVS has been buying pharmacies and USA health plans.
Aetna has over 23 million US health insurance customers but CVS Pharmacy has 93 million customers.
Aetna International has 800,000 lives covered-so numbers of policies is way below that.
CVS/Aetna has been adding more USA health insurance customers each year than Aetna International has in total.
CVS Health is selling off its health savings account business PayFlex to Millennium Trust,
CVS has no business outside the USA so has been struggling to understand overseas markets and why it cannot all be dome from the USA.
CVS wants to concentrate on the USA.
Background: IPMI market
The IPMI market is always shifting with market exits and entrants.
There is a global shift Eastwards as the USA/Europe axis gives way reluctantly to a China/Asia/Africa axis.
Being no longer possible to offer IPMI offshore, due to compulsory insurance, tighter regulation and a rising rife of nationalism- global players have to invest in offices, partnerships and deciding which markets to be in.
There is a massive rise in IPMI and PMI offerings from regional groups, local groups and single country insurers.
Aetna and Generali may be going out but coming in or back in are Zurich, HDI Global, Vitality International, Foyer, Alan and Sanlam –to name just a few.
APRIL and AIA are among those expanding their global presence
The rise in nationalism means that African companies and individuals have an increasing penchant for doing business with African insurers. The same applies in Asia, China, France and Germany. The trend is not so
USA and European groups are increasingly suffering headwinds in parts of the world due to the deeds, misdeeds and public utterances of their politicians.
Aetna International
Aetna International is being wound down and will cease to exist with remaining IPMI business handled by Aetna.
There will be redundancies - so there will be experienced talent available in a market where expertise is scarce.
Allianz Partners
As yet Allianz Partners have remained silent.
Allianz Partners is the Allianz subsidiary that specialises in assistance, international health & life, automotive and travel insurance. Solutions are available to business partners, and in some cases, are integrated into their own customer offers. They are also available via direct and digital channels under our three brands: Allianz Automotive, Allianz Global Assistance and Allianz Care plus Mondial Assistance. 
It has 17,500 employees in 76 countries with a strong regional organisation.
Allianz and Aetna deal
The commercial deal is contingent on certain legal processes being completed in relevant jurisdictions.  
The deal does not apply to India, Thailand or' The Americas"
Exactly what The Americas means is still confused but seems to be just the USA and Canada.
Aetna International has entered into a preferred partnership deal with Allianz Partners, a world leader in B2B2C insurance and assistance. The agreement covers all of Aetna International's regions, with the exception of the Americas, Thailand and India. 
Existing IPMI customers will be transferred to Allianz at renewal.
Completion of this migration process is planned to take place before or by 31 October 2023. 
Aetna International has been working closely with Allianz Partners to plan for a smooth handover for customers at policy renewal. 
Allianz Partners will offer new cover with similar benefits and no additional medical underwriting. 
More information will be shared with partners and customers over the coming weeks and also ahead of each policy renewal.   
Aetna International, in the EMEA and APAC regions, plans to no longer provide cover for most new customers or most renewals for existing customers with policy dates from 1 July 2022 onwards for most Group business and from 1 November 2022 for Individual business.
Aetna International IPMI customers will cease being on Aetna cover by 31 October 2023 at the latest, apart from any claims they make on their Aetna International policy.
The Americas: what is known
Aetna International's Americas business and operations will become part of Aetna.   
Aetna will concentrate on the US expat business and intends to partner with Allianz Partners to explore opportunities to service its members outside of the U.S.A 
More information on this will be provided in the coming months. 
Aetna International Thailand
In Thailand, Allianz Ayudhya has agreed to acquire 100% of Aetna International's shareholdings and therefore its Thailand business operations in their entirety. 
Aetna International India
Aetna's Indian Health Organisation is not included in the preferred partnership deal with Allianz Partners.
A separate update will be provided in due course.
VHealth in India has 4 million members
It is not insurance but four health membership packages of preventative care, treatment, consultation and dental.
vHealth services are offered in India by Aetna's fully owned subsidiary, Indian Health Organisation.
Partnerships
Aetna International has global partnerships, some long standing and some relatively new.
It would be usual to have a ' force majeure" clause so these partners will probably have the right to walk away and negotiate with other insurers.
Sanlam Pan Africa partners with Aetna International to offer Global Health an IPMI health insurance across 20 African countries.
Executive Healthcare Solutions in Nairobi acts as principal representatives for Aetna International PMI policies in Kenya and across Africa.
Swiss Life uses Aetna for IPMI customers in Singapore.
There are other local deals.
Middle East
Some policies are written locally and not by Aetna.
The ability and speed of transfer is down to local regulators.
In Abu Dhabi/ Dubai/UAE Allianz policies are written by Orient Insurance
In Abu Dhabi/Dubai/UAE Aetna policies are written by Al Ain Ahlia Insurance.
Aetna International was appointed by the National Health Insurance Company (NHIC) of Qatar as consultant with the carrot of being a preferred provider on the about to be launched national insurance scheme for millions of expats.
The Americas
United Nations geoscheme for the Americas
Northern America—the northern region of the North American continent, including Canada, the United States, Greenland, Saint-Pierre and Miquelon, and Bermuda.
Latin America and the Caribbean-extending from The Bahamas and Mexico to Argentina and Chile.
Whether Aetna means this or just the USA and Canada is not clear but probably is just the USA and Canada.
Aetna International has a Canadian office in Toronto with other local offices.
Aetna International has an office in Tampa, USA, serving the Caribbean, Central America and South America.
Aetna sells LatAm products via US agency VUMI- that has offices in Ecuador and Panama.
Neither CVS nor Aetna has any physical offices across the Americas.
China
Aetna partners with China Life and Huatai Insurance to offer IPMI within China
Allianz Care has a local office in Shanghai. It offers international healthcare plans for China, created in partnership with sister company Allianz China General Insurance. These healthcare plans have been designed to appeal to both international and local Chinese companies.
The theory and practice of transferring from Aetna to Allianz may be full of difficulties, and the Chinese authorities are not known for speed.
UK
Aetna International serves the UK and Europe and Russia from offices in Farnborough
Sanctions means that no Russian business can be renewed.
Conclusions
The leak of partial information before the two insurers could issue a joint statement could mean that regulators, brokers, partner companies and others may have learned about the deal second hand. This may just be an annoyance for brokers but insurance regulators and stock exchanges take a harsher view.
Insurance regulators globally are becoming tougher – witness the way they effectively killed the AON/WTW merger.
The above analysis shows that transferring from one global insurer to another is not a simple exercise.
It also shows why being a global IPMI provider is not easy unless you have a myriad of local offices and partnerships – and keep regulators sweet.
Latin America, Central America and the Caribbean are growth areas for PMI and IPMI- Aetna never stood a chance of really growing this business just from Florida.
To sell to Latin America, Central America and the Caribbean you now need local offices or partners.
For Allianz this is a major coup – at probably a lot less than CVS wanted last year.
The IPMI is not dead or dying- it is growing but in a myriad of different ways and is no longer a market any insurer can dabble in or control from offshore as it did decades ago.
About The Author
Ian Youngman is a writer and researcher specialising in insurance. He writes regularly for a variety of magazines, newsletters, and on-line services. He publishes a range of market reports and undertakes research for companies and has London market management experience with brokers and insurers. Read Ian's reports here.
back to top