Mandatory Health Insurance In Qatar Comes Into Effect Featured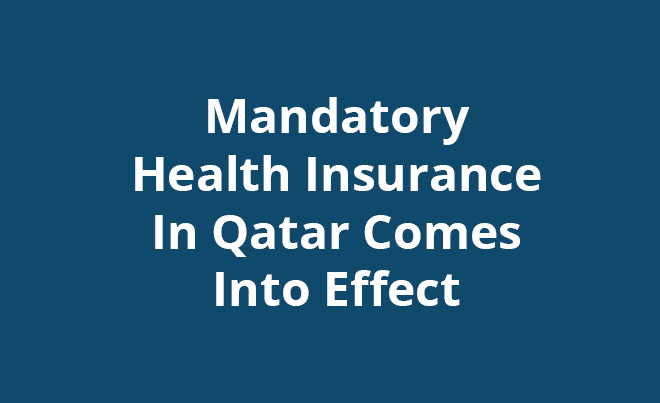 Ian Youngman, Author and Publisher of the upcoming INTERNATIONAL HEALTH INSURANCE 2022 and new companion iPMI reports, takes a look at how the new health insurance law in Qatar, may affect insurers.
In Qatar it is perfectly fine to be late for meetings as time is flexible.
Which makes it no surprise that with compulsory health insurance becoming law in May, that a few weeks before, boring details such as the full regulations have still not been published. The law sneaked out at the last minute.
The new law
Despite what you my have read or seen elsewhere, the law has been put into action. True, there may be delays while employers, lawyers, brokers and insurers work out the detail.
6 May 22
Legislation making it compulsory for expatriates and foreign visitors to Qatar to take out health insurance came into force on 6 May 2022.
The basics
Under the new law, Qatar's law no. 22 of 2021, employers are required to provide basic health care coverage for their employees.
The policy includes coverage for basic services and emergency cases for those under 60 years of age as well as coverage for chronic illnesses.
Bonus for Qatar health insurers
As the insurance is not a central one but where health insurers compete, it is a welcome bonus for health insurers in Qatar. They must be licenced locally as offshore cover is not allowed.
According to the rating agency Standard & Poor's, the new plan is expected to generate a premium ranging from 1 billion QAR (272.62 million USD) and 1.5 billion QAR (408.93 million USD) a year.
If you add in top up cover, the scheme will contribute to around QR1.7bn to QR2.2bn to the health insurance industry.
There will be another bonanza in 2022 with 1.5 million visitors expected to join the scheme to attend the FIFA World Cup Qatar 2022 this year who will be insured, increasing the cash flow and generate additional spending in the insurance sector and other services as well.
Background.
The health insurance scheme was introduced in November 2021 by the law number 22 of 2021- regulating the health services in Qatar.
The Ministry of Public Health (MoPH) says that the new health insurance system will reduce waiting times in the government health facilities in the country and provide appointments for medical consultations within a time that meets the health needs of citizens.
Basic healthcare for expats will be provided by new healthcare services, not all of which are built yet.
The Ministry of Public Health
MOPH is the regulator for healthcare and the driving force behind the law.
The new law consists of 6 chapters including 48 articles and it is expected that the MOPH will publish supplementary regulations.
This is still a moving feast and not all MOPH notices are translated or translatable.
Insurers
Only health insurers health intermediaries and healthcare providers registered in Qatar can offer the compulsory cover.
The IPMI exclusion appears to only apply to visitors, not expats or temporary workers.
Employers who do not cover their workers will be fined.
There is no provision for insurance paid healthcare outside of Qatar.
Those who are not already registered to do business as insurers or brokers in Qatar will take months or years to get registered.
Basic Health Insurance
Expatriates and visitors must have health insurance to acquire basic healthcare services.
Basic Health Insurance cover is required for the issuance of entry permits, residence permits and expatriates employment.
Basic Health Insurance cover is required for the renewal of both entry and residence permits.
Sponsors and employers must cover non-Qatari employees and their families with mandatory health insurance through contracts with registered insurance companies.
Employers and sponsors (the latter is for domestic workers) must pay the insurance fees of the employees and their families, provide them with the Health Insurance card and demonstrate that their workers are covered by the mandatory health insurance.
Visitors shall either buy local health insurance or prove that they have international health insurance valid in Qatar.
Existing IPMI policies
There is no exclusion for expats or temporary workers-or employers- that have IPMI to avoid buying the insurance.
But Visitors shall either pay their health insurance fees or prove that they have an international health insurance that is valid in Qatar.
Top up cover
Health insurers can offer top up cover.
Extra cover
Insurers and employers can offer cover above the basic required.
Pricing
Insurers can compete on price.
Citizens
There is no plan to include Qatari citizens.
Target market
Qatar has a population of 2.94 million- this includes 2.11 million expats.
88% of the population are non-Qataris - the highest in the world.
Expats 25% Indian, 12% Bangladeshi, 10% Filipino, 9% Egyptian, 6% Sri Lankan.
The impact
Local insurers predict that 2 million expatriates will have to buy, via their employer, this health insurance.
The country's health insurance sector will benefit from it and will double the employment in the healthcare industry providing better quality of healthcare services and technologies.
How it fits in
Qatar National Vision 2030 aims at transforming Qatar into an advanced society capable of achieving sustainable development by 2030. This strategy focuses on four important pillars – environmental, human, social and economic. That is why understanding, and implementing a successful healthcare strategy and health insurance program is important. 
The healthcare mandatory scheme is an essential part of achieving Qatar National Vision 2030. Health insurance is part of employee benefits, and this is the best and most effective way that organisations use to retain employees, keep their morale up and satisfied, argues the government.
Citizens
Qatari citizens receive health care services at the government facilities free of charge.
The State of Qatar provides national health cover for all residents of Qatar by providing them with a National Health (Hamad) Card.
The National Health Insurance Company (NHIC) manages and operates the social health insurance scheme in the State of Qatar. The scheme, which provides universal health insurance for all people in the country, offers its members a choice of providers from across the public and private sectors.
Qatar has a public health service that provides free or highly subsidised healthcare and, generally speaking, it is of an excellent standard
Healthcare
To keep up with the higher demands hospitals and clinics will be investing in expansion and there will be competition to attract more patients and to cope up with high number of visits. There will be better services and more technologies in the healthcare sector, and more profit is expected which will encourage employment for the healthcare providers.
The local insurers
International health insurers will benefit but face competition from a host of local health insurers- many of whom can compete on technology and expertise.
The increased cash flow and operation will end up generating higher profit that will allow companies to expand and increase their staff and be able to invest in technology.
Key locals include:
Doha
Doha Insurance Group is a Qatari shareholding company registered an incorporated in the state of Qatar and listed on Qatar Exchange Doha
It offers a range of insurance including local health insurance for companies but not individuals.
NLG
National Life and General Insurance Company (NLGIC) is 73% is owned by the state owned Oman International Development and Investment Company. Other shareholders include local pension funds and Oman Investment Fund
NLG is the market leader in health insurance in Oman with individual and group PMI and a claimed 65% market share.
It has ambitions beyond Qatar and has just bought RSA Middle East from Sun Alliance Insurance Overseas- including a local health insurance portfolio.
QLM
QLM Life & Medical Insurance Company is a Qatar Public Shareholding Company recently spun off from Qatar Insurance Group
QLM is the largest provider of group medical insurance in Qatar and has been picking up large accounts in 2021.
QLM claims the largest share of the health insurance sector within the local market.
Conclusion
The UAE, Saudi Arabia, Egypt, and Bahrain cut ties with Qatar in June 2017, accusing Doha of supporting terrorism. Qatar denied the accusations. They all made up a few months ago. But this left a legacy where insurers in other Gulf states had either closed their Qatar office or ceased doing business. The making up and new insurance rules means they have not caught up in time to set up local insurers.
The solution may be as one is doing, to partner with a local insurer.
It has been suggested that Qatar timed the new rules so that local health insurers have a starting advantage.
If you are an IPMI insurer licensed for PMI in Qatar this is going to offer massive potential but competition will be fierce.
Existing offshore or onshore PMI or IPMI policies will remain valid until renewal although if they do not cover the basic covers or are by an insurer not authorised in Qatar, the MOPH can question the validity.
All future policies must comply.
There will be a burgeoning and competitive PMI/IPMI market in Qatar.
There are a dozen reputable and sound local insurers, many authorised to write health insurance.
Several global health insurers write PMI/IPMI in Qatar but only a few of these have local offices.
Health insures with local offices include Allianz and Met Life while Fairfax is part-owner of Gulf Insurance Group and Munich Re has shares in Daman.
Some global health insurers may have missed the boat.
About The Author
Ian Youngman is a writer and researcher specialising in insurance. He writes regularly for a variety of magazines, newsletters, and on-line services. He publishes a range of market reports and undertakes research for companies and has London market management experience with brokers and insurers. 
Read Ian's iPMI market reports here.
back to top