Aetna International Launches Solution For Companies Hiring U.S. Citizens
In The iPMI Picture: Damian Lenihan, Executive Director, Distribution at Aetna International.
Leading global health care benefits provider, Aetna International (www.aetnainternational.com) has launched Access US, a product aimed at helping any non-US headquartered company that currently has, or is hiring, American citizens based in the USA.
Access US is an ACA-compliant medical product designed for organizations with 50 or more total employees world-wide. Only two employees need to be based in the USA to implement a group plan. The Access US Plans are an ideal fit for companies with geographically dispersed employees located in the US.
Access US allows companies to place all of their US employees on a single ACA compliant group plan with a simple composite rate structure. Nine standard plans are available for organizations of 2-20 enrolled US employees. Bespoke customization is possible for organisations with more than 20+ employees in the USA. All plans have US benefits as well as international cover for out of country travel. Standard deductibles range from $0 - $3,000 and cover can include dental and life.
Access US is offered in conjunction with Total Benefit Solutions (TBS). TBS is a leading general agent for US domestic and international health insurance, and has partnered Aetna for over 18 years. TBS's knowledge of federal and state laws, along with ACA rules and reporting provides comprehensive support with compliance, administration, enrollment and ongoing service support of group benefit plans. The facility offered through TBS not only provides compliance and service assistance but allows international brokers the opportunity to receive compensation where allowed by law for business referred and placed.
"Access US has simplified a previously complex and costly problem; that of non-US companies providing standardised, yet comprehensive, international health insurance to their American employees based in the US," said Damian Lenihan, Executive Director – Distribution at Aetna International. "A number of our broker-partners have proposed Access US to their clients and are seeing an encouraging take-up," he continued. 
For more information about Aetna International, visit www.aetnainternational.com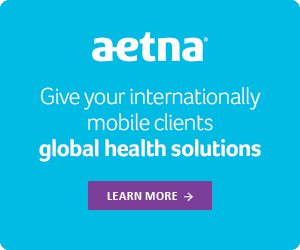 back to top