Aetna International And Sanlam Pan Africa Partner To Deliver Africa's Most Comprehensive Health Insurance Plan Featured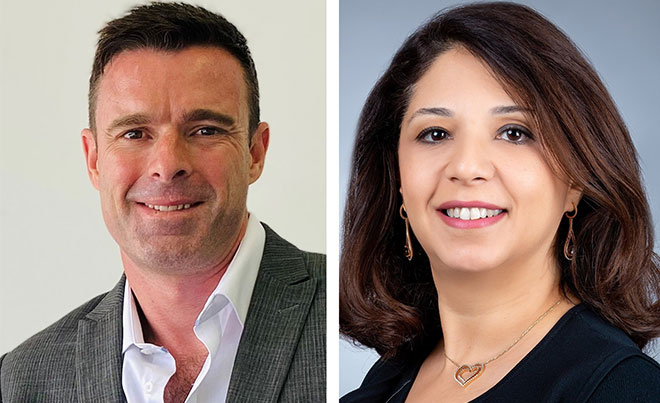 In The iPMI Picture: Antony Brown MBE, Head of Africa, Aetna International (left) and Ilham Lahlou, Head of Healthcare at Sanlam Pan Africa (right).
The Global Health plan addresses the needs of the local market in 19 countries across Africa, and expats across the region, by giving them access to quality, cost-effective healthcare.
Aetna International, a leading provider of global health benefits, has announced that it has partnered with Sanlam Pan Africa, a premier pan-African financial services group, to launch the Global Health plan — a unique health insurance offering that addresses the healthcare needs of both local and expatriate nationals, on an international basis, across all market segments in 19 countries[1] in Africa. Fully compliant with regulations in all local markets, the plan offers a broad range of benefits, an extensive direct billing medical network, flexible payment options and an enhanced member experience with local in-country service.
"In recent years we have seen employers across Africa pivot from traditional offshore international medical insurance providers to local ones. However, few local providers have the capacity to offer international cover, which in Africa, where certain forms of treatment are not always available locally, is essential," commented Antony Brown MBE, Head of Africa, Aetna International. "Furthermore, as a result of the global pandemic and greater availability of skilled resources in country, we are seeing companies on the continent make more local hires. What this means is potentially less demand for the traditional, high-cost fully international plans and an uptick in demand for plans that are more focused on regional cover, with comprehensive yet affordable benefits. This is exactly where we position Global Health; fit for today's market and yet future-proofed for the changes ahead."
RELATED READING: iPMI Magazine Speaks with Antony Brown MBE, Head of Africa, Aetna International
The Global Health proposition provides four plan levels — Value, Essential, Plus and Premium — with coverage ranging from US$100,000 to US$5,000,000. Depending on the tiers, the plans offer all levels of employees a host of health and well-being benefits, including cancer care, inpatient psychiatric treatment or psychotherapy, HIV or AIDS treatment, terminal care, medical evacuation, dental, optical and emergency treatment outside the area of cover.
With pre-authorised inpatient care across all of Africa and outpatient direct billing across the 19 Africa markets, Global Health offers members access to 8,000 directly contracted providers in Africa and over 1.3 million health care professionals globally, as well as a 24/7 multilingual call centre for emergency and evacuation immediate assistance. For plan sponsors, premiums can be invoiced centrally in USD, or in the local currency of each respective country, with all mandatory tax requirements included. 
"Not only is there a vast difference in the health insurance requirements of companies from one country in Africa to another, but the diversity of the countries in terms of language, currencies, cultures, and service expectation adds additional layers of complexity. By bringing together the Africa-specific experience of Sanlam Pan Africa with the global health insurance expertise of Aetna International, I have no doubt that Global Health will deliver Africa's most comprehensive and locally compliant health care solution with broad international access," added Ilham Lahlou, Head of Healthcare at Sanlam Pan Africa.
About Sanlam Pan Africa
Sanlam Pan Africa is the Sanlam Group Business unit responsible for managing and developing General Insurance business. Sanlam Pan Africa have more than 2,700 employees, working in 30 countries and operates in 3 areas of activity: Insurance & Reinsurance, Assistance and Third Party Management (TPA).
As the undisputed pan-African leader in insurance and a leading continental player, Sanlam Pan Africa has unique multi-business experience in the African market. In addition, it's the preferred entry point to support its clients on the continent, thanks to its extensive presence in Africa, which gives it an unparalleled geographic dimension. In addition, there is a complete product offering dedicated to all its customers, whether they are individuals, professionals or corporate.
For further information on Sanlam Pan Africa, visit: www.sanlampanafrica.com.
About Aetna International
Aetna International is committed to helping create a stronger, healthier global community by delivering comprehensive health care benefits and population health solutions worldwide. One of the largest providers of international private medical insurance, Aetna International serves more than 800,000 members worldwide, including expatriates, local nationals and business travelers. Its global benefits include medical, dental, vision and emergency assistance and, in some regions, life and disability. Aetna International also offers customised technological and health management solutions for health care systems, government entities and large employers to improve people's health, enhance quality of care and contain costs. Aetna International is a subsidiary of Aetna, a CVS Health company, which serves an estimated 34 million people with information and resources to help them make better informed decisions about their health care.
For more information, see www.aetnainternational.com or LinkedIn.
[1] Global Health covers local nationals and expats in 19 countries across the continent including Angola, Benin, Burkina Faso, Cameroon, Congo Brazzaville, Gabon, Guinea Conakry, Côte d'Ivoire , Mali, Madagascar, Morocco, Niger, Nigeria, Senegal, Togo, Kenya, Rwanda, Uganda, Zambia.
back to top