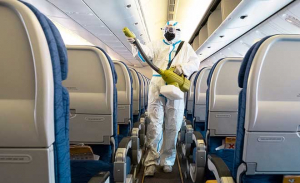 Collinson has announced it is renewing its partnership with easyJet until at least April 2024, providing travellers with a range of relevant and dynamic insurance options, including dedicated COVID-19 cover for all domestic travel.
The enhanced product, available to include during easyJet's booking process, will mean customers diagnosed with COVID-19 ahead of a trip are covered for any necessary refunds or rearrangements, as well as being covered for any required medical care if diagnosed with the virus whilst abroad. In the event customers are unable to return home due to being diagnosed with COVID, the policy will also cover them for additional accommodation as well as the cost of returning them home safely.
Today's announcement is the latest initiative from Collinson, which has launched a long line of new products and propositions designed to get the world travelling safely again in the wake of the pandemic. By providing insurance which travellers know will cover them for COVID as well as other illnesses abroad, the new product from Collinson and easyJet will help reignite consumer confidence in travel, giving much-needed reassurance that future bookings are protected from COVID when travelling.
"We know Brits are chomping at the bit to get out and see the world again when they can," said Greg Lawson, Head of Travel Insurance at Collinson. "However, some passengers are understandably wary of what will happen to them or their bookings if they catch COVID just before or during their trip. We want to give people peace of mind to encourage them to plan those holidays they've been dreaming of for over a year now. When the Government gives the green light to travel again, choosing to fly with an airline – like easyJet – that provides extra COVID-19 insurance is a great option."
Within the partnership, Collinson will underwrite and service the full range of dynamic and tailored products. These products are filtered to be relevant to the booking profile with business travel routes, for instance, being offered a gadget insurance upgrade while a ski resort destination would be offered a Winter Sport upgrade.
"We are pleased to partner with Collinson Insurance and develop a new travel insurance product for customers which offers COVID-19 travel insurance as standard," said Sophie Dekkers, easyJet's UK Chief Commercial Officer.
"The need for travel insurance is greater than ever before, so we know it will help bolster consumer confidence to book and travel, giving holidaymakers a much-needed reassurance for future bookings and possible COVID-19 related disruptions. We have also launched our enhanced Protection Promise meaning our customers can book with greater confidence knowing that if they are unable to travel, or their plans change, so can their flights. 
"As we are looking forward to ramping up our flying programme as soon as it is safe to do so, we can now give our customers added peace of mind that they can book their much-needed holidays knowing they are fully protected should they test positive before they travel, while on holiday or if they have to cancel their trip altogether."
Read more...