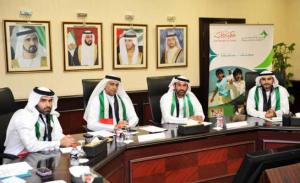 His Highness Sheikh Mohammad Bin Rashid Al Maktoum, UAE Vice President and Prime Minister and Ruler of Dubai approved the Health Insurance Law which stipulates rules and regulations for all parties involved with the provision and implementation of health insurance in the emirate.
The fundamental basis of the law is to ensure that every national, resident and visitor in Dubai has essential health insurance coverage and access to essential health services. This stems from the government's fundamental goal to provide happiness and security to the people of the country and is in line with Dubai Strategic Plan 2015. His Excellency Engineer Essa Al Maidoor, Director-General of the DHA said during a press conference that was held at the DHA headquarters: " We would like to thank His Highness Sheikh Mohammed and we are committed to fulfill his vision and ensure that every individual in Dubai has access to essential health coverage. Health insurance is a form of security and it is important for every individual to know that if he needs access to healthcare, it is easily available.
"The law is fundamental to ensure smooth delivery of essential health insurance to everyone living in the Emirate, which roughly means over three million people, which includes nationals and residents with Dubai visas. The DHA has been working on the development of the Health Insurance Law for Dubai as a model for financing health services in the emirate. The law stipulates a number of regulatory tools to ensure two fundamental goals: universal access to quality health care services and development of the competent health insurance system that is dynamic in nature, attracts investment and quality players that will further help drive the emirate's booming economy."
Dr Haidar Al Yousuf, Director of Health Funding at the DHA said that the law stipulates the roles and responsibilities of all the stakeholders involved with the provision and implementation of health insurance.
"In the case of UAE nationals, they shall receive insurance cards to replace the existing Dubai Health Authority (DHA) health cards that provides coverage for healthcare services and preventive care. They shall continue to have access to all current healthcare services provided by the DHA and various private healthcare providers. For residents, the health insurance law sets forth the employer's responsibility to secure insurance to cover the employees he sponsors. This applies to domestic employees as well, all of whom will receive essential health coverage and the cost will have to be borne by the employer.
Several health insurance packages will be available for employers and while essential cover is a mandatory requirement as per the law, employers are highly encouraged to provide enhanced health coverage to their employees." He added the law also chalks out the framework for insurance companies to abide by and as per the law only registered insurance companies will be able to provide insurance schemes and packages.
"The DHA will provide insurance companies with Health Insurance Permits and the move is aimed to ensure that every insurance company follows high standards as well as rules and regulations that are compliant with the DHA." Implementing the healthcare insurance coverage will start gradually in 2014 to be rolled out in phases until mid-2016.
Read more...