iPMI Magazine speaks with Steve Rowland Partner Rowland Brothers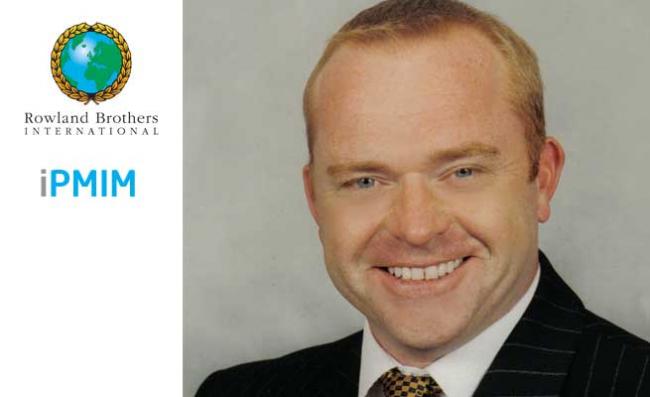 The repatriation service is focussed on three areas: cost containment, quality of service, and bereavement care.
Please introduce yourself and back ground in the industry:
My name is Stephen Rowland – people often ask how on earth did I get into this industry – the simple answer is that I was born and bred to serve in the industry – I am the fifth generation of the Rowland family to manage Rowland Brothers which was founded in 1873. We have four generations of the family working in the company today – including my grandmother at the grand age of 96yrs young who ran the company when her husband and brother-in-law were fighting in Egypt and France during the WWII - I don't think too many family businesses have achieved that milestone.
Family is very important to us all at Rowland Brothers. I started working for Rowland Brothers during my school holidays from the age of 12 helping to make coffins and cremation urns. When I left school, I took my father's advice and worked elsewhere for a number of years. I started in the claims department of an insurance company and learned much about handling clients who find themselves in difficult circumstances – however my true calling couldn't be denied, so started my training with a corporate funeral directors.
I learned a great deal, in how to arrange funerals and how not to! I then took a business degree at the University of Buckingham, did the usual gap year travelling around the world and in 1990 returned to Rowland Brothers to work from the ground up including chauffeur/bearing, arranging and conducting funerals, repatriations, funeral plans, memorials, etc, working my way through all departments.
In 2007 my sister Melanie and I purchased the company from our uncles and then implemented a series of improvements which continue to this day helping us to develop professional services to the families we serve.
What is important when conducting worldwide emergency repatriations?
Organisation – communication – empathy and a great deal of patience. You have to have a genuine desire to help families at what is probably the most difficult time of their lives. RBI has developed, over a 40yr period, a global network of specialised and very highly regarded funeral directors, ministers, bereavement councillors, freight agencies, emergency assistance workers and others that are relevant to the function of repatriation and assisting those left behind.
In the midst of tragic news, families are often unfamiliar with what happens in their own country, and they would have no reason to know what would happen away from home. They may be surprised that local laws will apply to someone who is a visitor and a different nationality.
It is important that we respect local regulations where the tragedy occurred. There may be occasions where local judicial processes delay the repatriation, but sadly this is unavoidable. So a clear explanation at the outset is very important to all concerned.
How can repatriation strategies be improved in 2013?
Managing expectations is crucial. At a time when emotions are high, it is difficult to understand why a loved one cannot be home immediately. Local knowledge is critical, so we work with our experienced local agents who not only help with the local regulations but also the local language. Communication is the most important factor. Without regular communication, there is frustration at all levels.
Rowland Brothers International has an established Global network of funeral directors. How do you select third party service providers?
Our global network has grown around the world since the 1970 s. We have developed long term and valuable relationships with established providers who are familiar with all the protocols for international repatriation. Worldwide funeral assistance is more than just arranging a flight. Nationality, host country and destination must all be considered to be sure that papers are in order for the funeral when loved ones arrive home.
What complexities exist when assisting insured or non insured travellers?
We are very familiar with insurance protocols. If there is travel insurance, it is important to tell the assistance company immediately what has happened. It is always a relief to know that insurance is in place, but travellers should read the small print before they sign up for an insurance product. Like all contracts, there are terms and conditions, and failure to declare pre-existing medical conditions, or existing medication, could result in cover being declined.
If we are working with families privately, or with insurance, our endeavour is to collect all the information we need from the family, our agent and local officials where the tragedy occurred so that the repatriation can proceed as promptly as possible, no matter who is responsible for the account.
The repatriation service is focussed on three areas: cost containment, quality of service, and bereavement care. What does this mean for 1- the patient 2- the patients family 3- the payor?
The nature of our work is sensitive. It unites two very different worlds, funeral direction and worldwide transportation. It is an intensely personal matter in a commercial setting. We bring loved ones home to or from the UK, or from country to country around the world.
At a difficult time, emotionally and financially, we are in a position to help on both levels. We can cost contain with a combination of preferential agreements with funeral and flight providers.
The quality of service is maintained by working with respected funeral agents around the world to ensure an effective service, delivered with empathy, by an experienced team of multi lingual co-ordinators.
How has the repatriation business developed over the last 20 years?
RBI is celebrating its 40th anniversary this year. When the company started, my father Tony Rowland was invited to set up a repatriation strategy by IntaSun holidays, from their Spanish resorts. At that time, many British tourists went to Spanish resorts, so initially my father went there to create a network of agents who would help British tourists in an emergency.
Over the years, we have watched business and leisure travel increase, not only in numbers but also in terms of destinations. Areas previously inaccessible are now firmly on the tourist map. With the increase in low cost flights, the travel bug attracts all age groups, all over the world, and we need to be ready to help if a tragedy occurs.
What role is technology playing in your business?
Communication has advanced in leaps and bounds which is a great advantage for us. With the increase in mobile devices, it is easier to contact families who are away from home. We can call them anytime. Rather than waiting for them to be at their hotel or apartment, or we can text or email to a mobile device, so it's easier to keep in touch.
In the office, we are planning to introduce a call recording system, but meanwhile we maintain timed and detailed notes to track our communication.
The growth of social media can be intrusive after a tragedy abroad, but on the other hand, some families welcome on line memorial messages after the sudden loss of a loved one.
RBI is fully educated on cultural difference. Why is this important?
We want families to know that we respect their culture and faith, and we will always try to accommodate their wishes. We will bring loved ones home as soon as we can, but if their faith dictates a funeral must happen very quickly, the combination of arranging documentation and transport home may unfortunately interfere with their funeral expectations.
For some faiths, embalming is not appropriate, but it may be required in order to proceed with the repatriation. In these situations, we need to explain what is happening and why, in case families prefer an alternative solution, for example, a local burial or cremation, rather than repatriation.
Which policies and processes between providers, assistance companies and insurers may be improved?
We are always looking for ways to streamline our procedures. For example, we have introduced an easy update system for assistance companies. We are available 24/7 either in the office or via our out of hour's service, and we have a quality control process in place throughout our network. We tailor our service to mesh with the process of the organisation which appoints us, from start to finish.
In 2012 we developed our bereavement education team, who provide in-house training to insurance and assistance staff, helping them to cope with bereaved families but to also recognise the affect that such work has on themselves. Such a program demonstrates that our partners are fulfilling their duty of care to their own staff.
How has the expatriate market developed for RBI in the last 5 years?
RBI is connected to a suite of services offered by sister companies for example, local funeral services with Rowland Brothers, or pre- need funeral plans with Golden Leaves. Through our network of local and international agents, we can offer expats a range of funeral related services nationally and internationally, from exhumation to bring a loved one to another country, to maintenance of an existing grave in their country of origin.
Last and not least – if you could live anywhere in the world, on land or at sea, where would it be?
I have often thought about where else I would want to live, Sandbanks has a lot to offer – but it's cold and grey in winter.
I have lived in Seattle which is a great city and the surrounding Washington State has everything, rain forest on one side – desert on the other and snow-capped mountains in the middle, it is beautiful.
Saying that, I think an island in the Caribbean would suit, white sandy beaches, turquoise sea, plenty of fishing, scuba diving and a chilled approach to life - however it won't mean a thing without all the family, Croydon isn't such a bad place!
To learn more about Rowland Brothers International log on to their web site at: http://rowlandbrothersinternational.com
back to top