iPMI Magazine Speaks With Caroline Pain, Senior Vice President, Customer Proposition, Aetna International Featured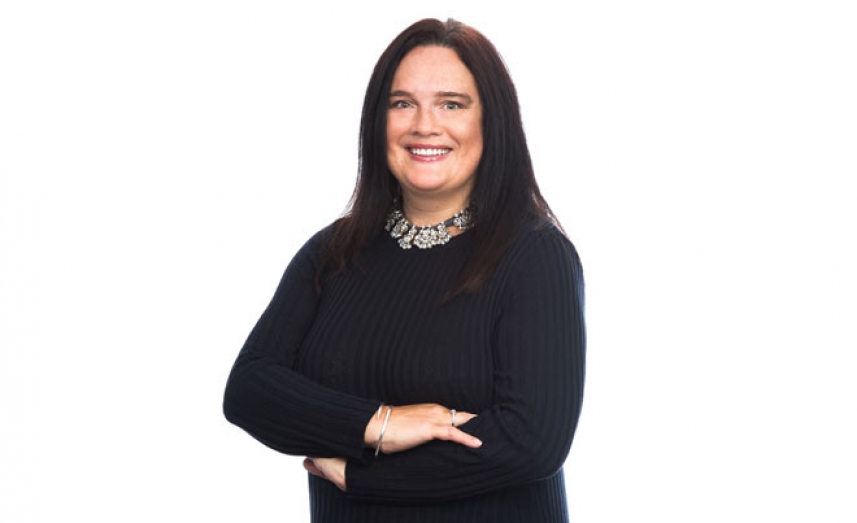 In this iPMI Magazine industry exclusive, Christopher Knight, CEO, iPMI Magazine, sits down with Caroline Pain, Senior Vice President, Customer Proposition at Aetna International. They discuss in detail the launch of DNA testing for Aetna International European members and look at how using personalised information can spark actionable lifestyle changes.
Please introduce yourself and background in the international private medical insurance market:
I have over 20 years' experience in management, covering marketing and sales, analytics and digital, BPO and customer strategy. I joined Aetna International in 2012, but prior to this, I was responsible for building Aviva's early digital self-service experience and leading the customer experience transformation programme.
Now, as the Senior Vice President of Customer Proposition at Aetna International – part of Aetna Inc., a CVS health business and a US Fortune 8 company – I lead the organisation's global marketing, product development and customer experience. We currently serve more than 900,000 members worldwide and ensure they can stay in control of their health, wherever they are in the world.
May 2019 and Aetna International launched DNA testing for its European members as an optional part of the wellness plans. What does this mean for Aetna International?
Aetna DNA is a member-centric service, which gives each individual an opportunity to make more personal, informed decisions about their overall well-being. As a health and lifestyle test, it looks at sensitivities in four different areas; nutrigenomics (the relationship between what we eat and our biochemical response), fitness, sleep and stress. These four areas are all components that can have a substantial impact on our overall health outcomes although, as we are all unique, they will affect different people in different ways.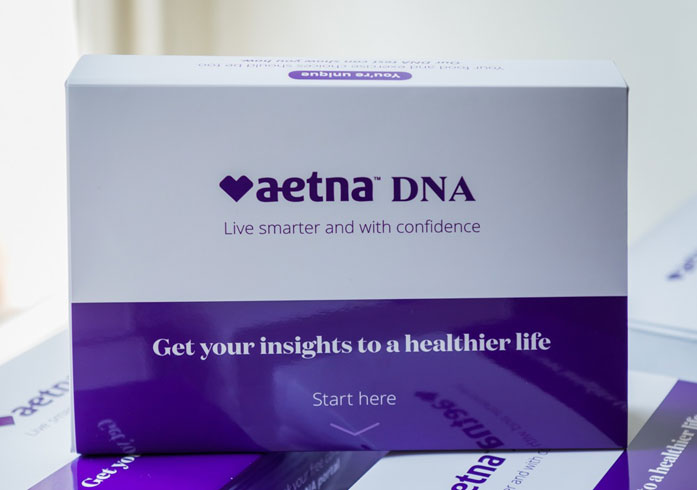 In the context of a bigger picture, the World Health Organisation states that noncommunicable diseases (NCDs), such as cardiovascular disease, represents 71% of all annual deaths and an estimated 80% of premature deaths1. This means they're by far the leading cause of death in the world. Many of these NCDs are lifestyle-based in nature and there is good evidence from a number of large, longitudinal studies that the addition of DNA insights can lead to sustainable behaviour modification. Put simply, we wanted our members to have the option of these insights.
Of course, this type of information is only the beginning of the story – it's what you do with it that counts. But there is evidence to suggest that the positive impact from finding out more about your genetics can be truly life-changing. For example, one study in Finland tracked 7300 people over an 18 month period, after they had received their genetic risk information. It found that 88% of participants were inspired to take better care of their health and around a fifth of those who smoked managed to give up. This compares well with a control group of the general population, where only 4% gave up smoking2.
Certainly, the response to the European launch so far has been phenomenal. Our view is that our members are increasingly invested in understanding the impact of their genes on their health, and also in taking a proactive approach to managing their physical and mental health. Aetna DNA is a powerful link between both of these consumer trends.
How does the Aetna DNA test actually work?
A simple mouth swab is sent to a certified UK lab for analysis. Members register their kit online and provide their consent. They are then notified by email when their test has been processed and can log in to a digital portal to explore and download their results.
In the wider market, there are many different types of genetic tests available, from tracing your ancestry to diagnostic and carrier testing for things like sickle cell anaemia or cystic fibrosis. Aetna DNA does not test for any of these – its focus is health and lifestyle predispositions and sensitivities to food, fitness, sleep and stress.
How does knowledge about genetic predispositions and sensitivities affect the way in which health care services are designed and delivered?
We're seeing a shift in health care becoming increasingly geared to delivering precision medicine, which means focusing on the approaches that are most effective for individuals based on genetic, environmental and lifestyle factors. We also face a situation of a chronic under-supply of primary care, so it is more important than ever that we keep people healthy, rather than waiting for them to become ill. Testing your body's response to things like caffeine and carbohydrates with Aetna DNA plays a small part in this – it gives some personalised insight and reassurance that you're tailoring your approach to health in a way that makes the most sense for you.
It's important that these insights come with the option of consultations with fitness and nutrition experts, to help people identify ways to optimise their health and reduce the risk of lifestyle-related diseases. Our members might, for example, choose to share details with one of our virtual health care nutritionists who would be able to suggest modifications – or even a different direction – to ensure they're on target to reach their ultimate health goals. Many of our members can also consult with our clinical team, including our virtual primary care service if they have more complex questions.
However, who this information is shared with is completely up to individuals – the key to DNA testing is that it is personal. While you might be able to get more bespoke advice if you do share, people are certainly under no compulsion to do so. As an insurer, our priority is to make sure our members receive information that is as accurate as it can be. We also know we need to prove trust and integrity as an industry – this is personal, highly sensitive data, and we take our responsibilities in this area very seriously.
What are the benefits of taking a proactive and preventive approach to health care?
It helps to understand the scope of the potential benefits by considering that, in the U.S., health care spending has reached U.S. $3.5 trillion and is estimated to increase by 5.5% every year. It is set to reach $6 trillion in 2027 – nearly 20% of GDP. At the same time, the prevalence of NCDs from things like physical inactivity and unhealthy diets are on the rise.
To meet increasing demands, we know that the health care system has to be less siloed and more integrated. We need to treat people not just as patients but as active consumers of health care.
Our way of moving towards this is a vision of health care built around the P4 model; health care that is predictive, preventative, personalised and participatory. It's a vision designed to offer individuals the right intervention, at the right time, in the right place for them, and can significantly reduce the burden on primary care as well as allowing people to live fuller and healthier lives.
This is where Aetna DNA can help. A genetic test that yields information on lifestyle and nutrition is one way of taking an active role in maintaining your health, or improving it by sparking actionable lifestyle changes.
European employers that are starting or renewing their insurance contract with Aetna International can purchase a DNA kit for employees as an add-on product. How will this work?
Aetna DNA is being offered as a supplement to the wide-ranging resources we already provide. It's completely optional and available for schemes of 10 employees or more at an exclusive subsidised launch price of £75 per person (RRP £150). It's a discretionary way of giving more insight into and clarity around someone's unique nutrigenomics, fitness, sleep and stress sensitivities if they wish to engage.
What is the role of health insurers in relation to genetics?
I think the traditional role of health insurers is changing. On one hand, patients are demanding more seamless, convenient and holistic care, and on the other, we're facing a growing global challenge with ageing populations, increasing NCDs and massive pressure on primary care.
It means that health insurers have a duty to engage in the broader health of populations and assist in providing better health outcomes. We need to find ways to work with other health care providers and other industries, to reduce unnecessary treatments and to keep people healthy. We know that the foundations that physical and mental health are built on are the same for everyone – eating well, reducing stress levels, exercising regularly and getting enough quality sleep. But everyone is different – your tolerance to caffeine may not affect the quality of your sleep, but mine might. So genetics will undoubtedly play a part.
What are the main differentiators of the Aetna International DNA testing service VS other providers?
Our approach can be summed up in two words – responsible provision. Unlike other providers, we do not provide results in a vacuum. Instead, we are focused on putting the test results in context, with qualified clinicians, which is far more valuable than reviewing results in isolation.
There is an abundance of comprehensive, easy to access and professional advice available after people take the Aetna DNA test. The written results reports are intentionally user-friendly, and members can book a consultation appointment to talk to about changes they may like to make. Our follow-up assistance can be accessed from a number of our well-being resources, including health coaching, our employee assistance programme and vHealth, our virtual health care service.
At Aetna International, we're striving to move from a paradigm of 'sick care' to 'well care' to help people stay healthy and live long and fulfilling lives. We firmly believe that personalised health and wellness plans are key to disease prevention, and can also expedite diagnosis and treatment, often negating the need for invasive treatment. This is clearly good news for the individual's health, but it also reduces pressure on health care systems and ultimately has a positive impact on national economies. It can also encourage behaviours which ultimately lead to healthier communities and workplaces. We are privileged to be able to join our members on their health journeys – and with that privilege comes a responsibility that we take very seriously.
RELATED READING: Aetna International Announces Launch Of Health And Lifestyle DNA Testing
References
1 https://www.who.int/news-room/fact-sheets/detail/noncommunicable-diseases
back to top