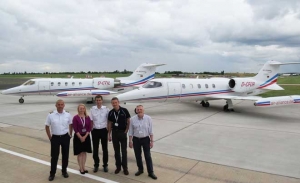 Air Alliance has increased capacity by adding a second Learjet 35A to their UK operations.
To help with the increase of availability, two new First Officers have joined the team in Birmingham. Dan Sanders and Tim Gurney-Coombs bring with them a wealth of experience in Air Ambulance operations, having more than 15 years of experience between them. They have joined a very highly skilled team in Birmingham which has several thousand flights hours each across the flight crew.   
All flight enquiries are centrally handled by the German alarm center:
Phone: +49 2736 4428 45 // This email address is being protected from spambots. You need JavaScript enabled to view it.
Air Alliance UK Operations approved as Provider by Care Quality Commission (CQC)
The Air Alliance UK operation is now officially registered with CQC (Care Quality Commission), the independent regulator of health and adult social care in England. This is another milestone for Air Alliance in terms of quality and patient safety.
Air ambulance insurance services evacuation repatriation news
Read more...