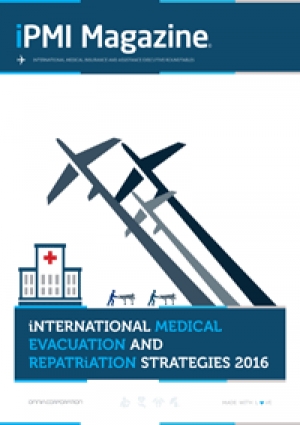 In this exclusive round table executive business forum, iPMI Magazine speaks with all sectors of the global industry and focuses on the complexities the international private medical insurance industry face when an insured member falls sick, or has an accident overseas, and requires repatriation or evacuation services home or to the nearest medical facility or centre of excellence.
Educational and informative the round tables delivers pertinent IPMI business intelligence directly from global medical evacuation and repatriation specialists.
Featuring C-Level Executive Commentary From Air Alliance, Bellwood Prestbury, Jet Executive, Mayday Assistance, Quickair And Tyrol Air Ambulance.
ROUND TABLE CONTENTS
 VIP ARRIVAL LOUNGE: MEET THE ROUND TABLE EXECUTIVES PAGE | 19
 EXECUTIVE ROUND TABLE INTERVIEW
 IPMI MAGAZINE SPEAKS WITH FIONA GREENWOOD, ROWLAND BROTHERS INTERNATIONAL PAGE | 32
 EXECUTIVE GROUP ROUND TABLE
 FEATURING C-LEVEL EXECUTIVE COMMENTARY FROM AIR ALLIANCE, BELLWOOD PRESTBURY, JET EXECUTIVE, MAYDAY ASSISTANCE, QUICKAIR AND TYROL AIR AMBULANCE PAGE | 37
 AIR AMBULANCE PHOTO GALLERY PAGE | 76
 INTERNATIONAL AIR AMBULANCE PROVIDER NETWORK DIRECTORY PAGE | 103
 INTERNATIONAL ASSISTANCE & TPA PROVIDER NETWORK DIRECTORY PAGE | 115
Read more...