Congratulations to the team at Air Alliance for winning the "Air Ambulance Provider of the Year Award" for the 2nd year running.
During the ceremony at the ITIJ Industry Awards in Geneva, Air Alliance competed against two further finalists and was handed the prestigious award by sponsor Larry Friedman - UC San Diego Health. 
Air Alliance would like to thank all clients and the entire team for their excellent support and great work.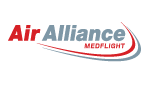 Air Alliance Medflight is a 100% subsidiary of the Air Alliance Group, a company that has been successfully serving the market since 1993 in all aspects of aviation. Aircraft sales, air ambulance, aircraft maintenance/development and flight training center are the strategic business units of the company.
To date, Air Alliance runs a fleet of 11 own aircraft (Lear Jet 35, 55 and Challenger 604) They are located in Cologne - Siegerland (near Frankfurt) and Vienna / Austria.
Every year, some 780 missions around the globe and approximately 6,000 flight hours are accomplished. Air Alliance Medflight is specialized in long range flights and in flying to remote areas. On our flights, we propose the full spectrum of care: from basic to advanced life support and critical care with premium medical equipment.
We serve clients from around the globe, including major insurance and assistance companies, governments, hospitals, specialized aviation brokers and private payors
Read more...