Jet Rescue Air-Ambulance Launches the First Level-1 Biohazard Med-Evac Solution for Latin-America
Jet-Rescue Air Ambulance (USA and Mexico) is pleased to announce the introduction of ISO-Chamber™, a Level-1 biohazard isolated med-evacuation transport system.
The ISO-Chamber™, manufactured by STC environmental Products in Seattle USA, is designed to contain the risk of transporting patients who are infected with highly contagious, deadly, diseases.
"Effective immediately,Jet-Rescue is the 1st and only air ambulance provider in Mexico and Latin America with the ability to transport highly infectious patients. We deployed one ISOChamber™ biohazard isolation transport system in our US base in Miami Florida, and ISOChamber™ system in our Mexico-City base. Jet Rescue is now ready to offer this uniquely specialized transport service to Governments, NGOs, Academic Medical Centers, as well as to insurers and medical assistance companies" said Carlos Salinas, CEO & COO of Jet-Rescue Air Ambulance Corporation.
"Jet Rescue has long held a qualitative edge in the air-ambulance segment. We made a name for ourselves by safely transporting, high-acuity, patients who require complex care. As such, we invest heavily in best-in-class medical equipment and custom designed our fleet as flying ICUs. Jet Rescue pioneered the use of the Hamilton T-1 mechanical vent onboard an air ambulance in Latin America. We are also one of the few companies in the Americas that use the I-Stat portable lab inflight.
Jet Rescue is also the first, and only med-evac company, in the Americas utilizing ultrasonography in a fixed-wing air ambulance. As we all know, air ambulance transportation is reserved for the very sick, or the severely injured. These patients need the best equipment and highly skilled medical staff to safely endure the aeromedical transport. Our ongoing investment in staff development and equipment results in what our clients consider to be best-in-class medical care and best value aeromedical service", concluded Salinas.
With 10 dedicated LearJet air ambulances, Jet Rescue operates the largest international medevac service in LATAM out of bases in Mexico City and Guadalajara. Jet Rescue's USA H.Q. is at Opa Locka International Executive Airport in Miami. Jet Rescue Mexico Owns and Operates its Air Ambulance Fleet under Mexico AOC MTS/2015. US Aircraft owned by the company, are operated by Century Aviation Part 135 Certificate Number LDIA742M. Jet Rescue is the registered trademark of Med Jets SA de CV and Med Jets USA Inc. Worldwide Air Ambulance Service.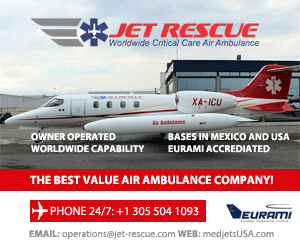 Latest from iPMI Magazine
back to top