Learn All About Jet Rescue Air Ambulance Featured
Jet Rescue Air Ambulance specializes in long-range air ambulance transports and is one of the most experienced air ambulance companies in the world. Thanks to the excellent quality of our services we have been chosen as a official providers for major insurance and assistance companies around the world. 
Jet Rescue Air Ambulance is the Marketing Brand For Mexican AOC Certificate Holder Med Jets S.A. de C..V, (Certificate Number: TAN-TN-0903), to operate as Jet Rescue Worldwide Air Ambulance. The company is in the business of providing and/or arranging air medical transportation services, commercial medical escorts, ground ambulance services, and insurance benefit assistance.Jet Rescue Air Ambulance Service focus is performing these obligations in a manner that far surpasses our customers' expectations.
Read all the latest news from Jet Rescue with iPMI Magazine, click here to visit the Jet Rescue micro site in iPMI Magazine Provider Network
To request further information about Jet Rescue Air Ambulance please fill in a provider info request form here.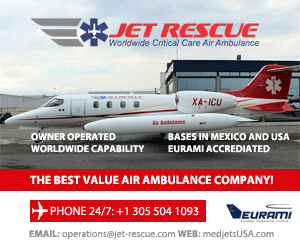 back to top