Learn All About Awesome Air Evac Featured
Awesome Air Evac offers fixed-wing air ambulance services covering the whole of Africa, it's surrounding islands, Europe and the Middle-East. Based at Lanseria International Airport in Johannesburg, South Africa, and utilising dedicated long-range jet air ambulances, Awesome Air Evac is capable of flying a wide range of patients. With an average dispatch time of 2 hours, and flying with flight doctors and flight nurses or advanced life support paramedics, Awesome Air Evac is a safe choice for air ambulance flights.
Awesome Air Evac provides medically escorted repatriation of patients on commercial airlines internationally and the team can assist with all facets of a repatriation including preflight assessments, flight arrangements, ground transport, airport clinics and airline medical clearances. With its base of operations in Johannesburg, Awesome Air Evac has easy access to most major airlines and destinations.
Visit the Awesome Air Evac micro web site in the iPMI Magazine Provider Network, click here.
To request further information about Jet Rescue Air Ambulance please fill in a provider info request form here.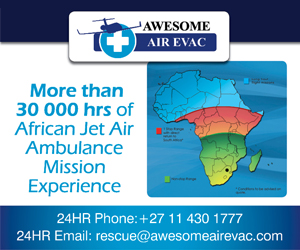 Related items
back to top