Air Alliance Joins International Assistance Group As Accredited Service Provider Featured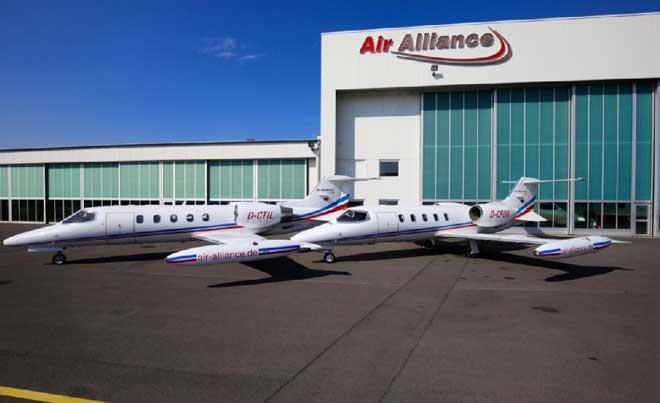 Reflecting the needs of travel insurers and their medical assistance providers, with three strategically placed European bases in Germany, the UK and Austria, Air Alliance provide technically supported platforms for their impressive fleet of 11 pre-configured air ambulances.
A variety of Learjets forms a core which quickly covers Europe, North Africa and the Middle East. An experienced planning team and availability of pilots will extend the range to North and South America, the Caribbean, southern Africa and Asia.
Rarely found in Europe are two dedicated Challenger 604s air ambulance aircraft with a maximum capacity of up to three stretchers. These modern ultra-long-haul with a range of some 3,700 nm (6,850 km) are deployed where distance demands or additional medical personnel required due to the complexity of care needs, such as delicate spinal injuries or ECMO. The Challenger 604 is also used for the transport of bariatric ("XXL") cases with more than 130 kg body weight and patients with heavy infections. As part of their ongoing transport solutions development, Air Alliance is currently preparing the launch of their PMIU "epishuttle, a hi-tech, solid-shell isolation chamber which can also be used for COVID-19 patients on the Challenger 604.
Winning the coveted Air Ambulance of the Year Award in 2017 and 2018 from the International Travel Insurance Journal (ITIJ), Air Alliance also maintains ongoing auditable accreditations with EURAMI, the European Air Safety Agency and the UK's Care Quality Commission. The focus on delivering excellence is drawn together with IQSMS, their bespoke cloud-based quality and safety management system.
Delivering care at all levels to every group is a pool of 120 medics, covering Advanced Life Support, ECMO, bariatric and neonatal, amongst other disciplines. Three medical directors lead on quality and governance, with the remarkable combined experience and current relevance in senior hospital roles as part of their professional portfolios.
Licensed to provide aero medical training, Air Alliance openly shares its extensive experience through an Aeromedical Academy. Access by other companies and organisations is currently planned.
Quick Air Alliance Facts
Aircraft fleet
Challenger 604 x 2

Learjet 35 x 7

Learjet 31 x 1

Learjet 45 x 1 (Coming soon)
Staff total of 127
Pilots 43

Management/administration/medical 46

Technical 38 
Operational 2019
Flight hours 7000

Missions 925

Countries covered 103
Awards and accreditations
ITIJ Air Ambulance of the Year 2017 and 2018

EURAMI

EASA (European Air Safety Agency): Part 145 and Part 21 J

CQC (Care Quality Commission, UK Regulator and Auditor)
back to top