Tyrol Air Ambulance Now Transports COVID-19 Patients Featured
In The iPMI Picture: Isolation unit of Tyrol Air Ambulance.
Tyrol Air Ambulance can now also transport patients suffering from most infectious diseases, e.g. COVID-19.
Isolation units especially adapted by Air Ambulance Technology (https://www.airambulancetechnology.com) for our ambulance fleet of Citation Bravo and Gulfstream 100 aircraft is used for these transports. The insulation system works with negative pressure, which reduce the germ load and minimizes the risk of a contamination of the environment.
Everyone, from small to large can be safely transported in this isolation chamber, including intensive care patients. In the isolation unit even babies and infants in an incubator can also be transferred safely and without medical restrictions. The company's incubator is used for such pediatric transports.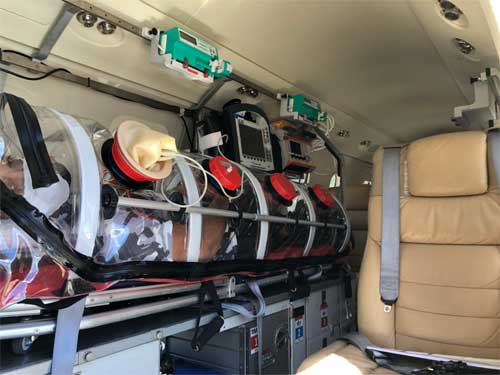 "With the possibility of transporting infectious patients, we are well prepared for the summer now that travel restrictions are lifted", says Manfred Helldoppler, Managing Director of Tyrol Air Ambulance. "The need for repatriations of COVID-19 patients is very likely to increase with the rising volume of travel activities," Helldoppler continues.
Tyrol Air Ambulance operates a fleet of seven ambulance jets for worldwide medical repatriations and runs a 24-hour Operations Control Center at Innsbruck Airport.
Photo credits: Copyright Tyrol Air Ambulance.
Photo 1: Isolation unit of Tyrol Air Ambulance.
Photo 2: Isolation unit on board the air ambulance jet of Tyrol Air Ambulance.
back to top