European Air Ambulance (EAA) Proud To Announce Introduction Of Larger, Longer-Range Medical Aircraft Featured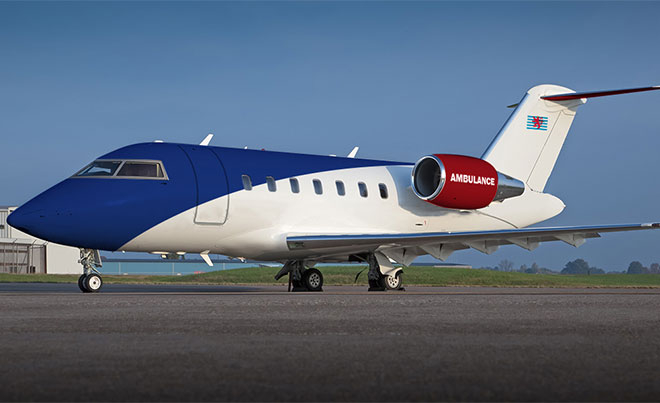 European Air Ambulance has announced a major new investment in its fleet – with the purchase of a larger, longer-range medical aircraft.
'Major new addition to European Air Ambulance fleet opens up a whole range of new possibilities', says Director Sales & Marketing, Patrick Schomaker.
The Bombardier Challenger 605 will be based at EAA's state-of-the-art headquarters at Luxembourg Airport, and will become operational for dedicated air ambulance use this summer.
"At EAA, we are always looking for ways to enhance the services we offer – so we are very proud to announce the introduction of the CL-605 to our fleet," said Director Sales & Marketing Patrick Schomaker.
"Our first long-range option, it will give us greater operational capabilities, in line with our mission to provide safe, quick and cost-effective medical repatriation 24/7/365 worldwide."
EAA - a brand of Luxembourg Air Ambulance - is an expert in international air ambulance repatriation, with more than three decades of experience in aeromedical transport.
It already operates a fleet of four Learjet 45XRs dedicated to air ambulance missions – but decided there was a need to expand its capabilities via a longer-range aircraft with a larger cabin.
The range of the Challenger means most missions will be flown without fuel stops, saving time and expense on refuelling breaks or overnight layovers – a significant advantage with so many differing Covid-19s travel restrictions and protocols across borders.
The larger cabin meanwhile will offer greater flexibility and configuration options, and ultimately allow EAA to carry more patients, with two set up as intensive care beds. The additional space will also allow more specialised medical equipment to be taken on missions, as well as additional accompanying passengers, and more luggage.
"Put simply, we will be able to react quicker, launch missions sooner, and bring patients home faster," added Schomaker.
"We are renowned for the standard of our service and the quality of our care – but we never rest on our successes; we're always looking to the future and assessing what more we can do to provide the best and most cost-effective services to clients, customers and patients."
The Challenger will be available starting summer 2021 for use by all existing and potential EAA clients around the world, and will offer significant advantages to those who specifically need longer range flight options and those operating globally.
Assistance companies transporting Covid19 patients will be able to make use of the aircraft, with all EAA's Covid-secure measures in place including isolation units.
It will also be available to VIP patients (such as one transported during the summer), who need room to accommodate their support personnel or who simply want a more spacious aircraft.
European Air Ambulance (EAA) is one of Europe's largest specialised aeromedical service providers, offering cost-effective worldwide emergency repatriation 24/7/365.
EAA is a brand of Luxembourg Air Ambulance, owner and operator of four Learjet 45XRs and Challenger 605, all dedicated to air ambulance services and fitted with state-of-the-art equipment.
EAA's expert medical crews are always on standby to respond to mission requests from clients, who include insurance and assistance companies, individuals, NGOs and governments around the world.
Through its commitment to patient care, continuous innovation and ongoing investment in services, EAA is at the forefront of the worldwide emergency medical transport industry.
back to top