FAI Dedicates Global Express To Ultra-Long-Range Air Ambulance Operations Featured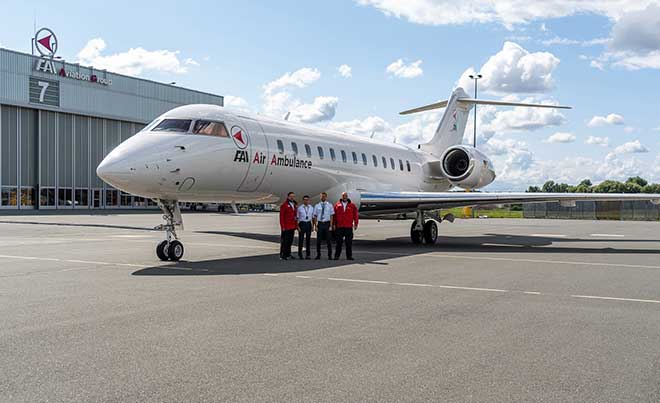 FAI rent-a-jet GmbH, Germany's leading Special Mission Operator, has configured one of its seven Global Express aircraft (D-AFAM) as a dedicated air ambulance.
The move follows increasing demand from the market for ultra-long-range air ambulance missions.  FAI has completed 10 ultra-long-range air ambulance missions over the past two months alone. The company is focused on building up its air ambulance capabilities in long and ultra-long-range missions with a view to strengthening its position as a world leader in the field.
 Volker Lemke, Head of FAI's Air Ambulance Division said, "Over the past year, we have experienced a significant increase in demand for long and ultra-long-range air ambulance business on sorties from Europe, Africa and the Middle East. Equally, we have seen increased demand in the short and medium range repatriation air ambulance business. As a result, we are pleased to commit and dedicate one of our Global Express aircraft to air ambulance, which will enable us to be more agile and mission-ready within minutes."
Previously, FAI converted the interior of the Global Express and configured it for air ambulance missions on a case-by-case basis.  In medevac use, the aircraft features up to three Spectrum Aeromed ICUs.
The Global's non-stop range of 6000 nm enables transport of up to three intensive care patients in addition to FAI's specially trained medical teams and co-travellers from the west coast of the US to Europe, the US east coast to the Middle East or from Europe to the Far East.
Award-winning FAI has been at the forefront of supporting the Covid pandemic response and earlier in the year was honoured with the Pandemic Response Special Award at the Middle East Annual Aviation Achievement Awards. In 2020, FAI had one of its busiest years ever for its air ambulance fleet owing to the pandemic.
This included medical evacuations of infected patients and repatriation flights of unaffected healthy individuals from all corners of the globe. During this time, FAI pioneered the roll-out of Covid-19 aeromedical transport capability, the EpiShuttle isolation pod. This enables self-contained oxygen and air ventilation directly to the patient, isolated from the cabin's airflow.
The company is one of the world's largest air ambulance jet operators by revenue. The 10-strong air ambulance fleet comprising Bombardier Global Express, Challenger 604 and Learjet 60 is based at FAI´s Headquarters at Albrecht Dürer International Airport in Nuremberg. It is supported by more than 200 full-time staff plus 50 part-time physicians, nurses and paramedics. The company also specialises in air support in hostile areas for the world´s largest NGO.
back to top