FAI Awarded Air Ambulance Company Of The Year For Record 3rd Time Featured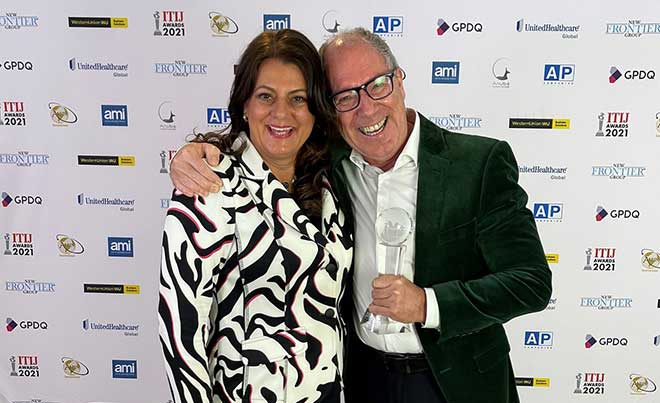 In The iPMI Picture: Barbara Baumgartner, Managing Director FAI Rent-a-Jet GmbH, DMCC Branch and Volker Lemke, Head of FAI's Air Ambulance Division with the award.
FAI rent-a-jet GmbH's Air Ambulance Division has been awarded the 2021 International Travel & Health Insurance Journal´s (ITIJ) Air Ambulance Company of the Year.
This marks the second successive win for FAI and its third win overall, making it the only company to have ever achieved such a result to date. Nuremberg, Germany-based FAI's triumph was revealed live from the ITIC Global celebration lunch in Madrid on Thursday 4 November.
FAI beat off stiff competition from AMREF Flying Doctors and European Air Ambulance to secure the award. ITIJ honours the best of the travel insurance sector including those companies that have made an outstanding contribution to the global travel and health insurance industry over the past year.
Mandy Langfield, Managing Editor of ITIJ, comments "The strategies the winners have employed to not only survive during the pandemic, but thrive, are testament to the professionalism of the people they employ."
Accepting the award, Volker Lemke, Head of FAI´s Air Ambulance Division, said, "We are absolutely delighted to have won this prestigious award once again. It means a lot to myself and the entire FAI air ambulance team. This past year has been incredibly challenging as we have worked exceptionally hard to meet complicated and ever-changing conditions during the pandemic. Our team has worked tirelessly and professionally and for this, I would like to thank them and dedicate the award to them."

Ian Cameron, Editor in Chief of ITIJ, added, "Huge congratulations to FAI for their second win in a row as ITIJ Air Ambulance Company of the Year. The company has demonstrated commitment to excellent patient care and the highest of operational standards throughout the Covid-19 pandemic and beyond. The award is thoroughly deserved."
FAI has been at the forefront of supporting the Covid pandemic response and in 2020, the company experienced one of its busiest years ever for its air ambulance fleet. This included medical evacuations of infected patients and repatriation flights of unaffected healthy individuals from all corners of the globe. During this time, FAI pioneered the roll-out of Covid-19 aeromedical transport capability, the EpiShuttle isolation pod. This enables self-contained oxygen and air ventilation directly to the patient, isolated from the cabin's airflow.
FAI rent-a-jet is one of the world's largest air ambulance jet operators.  Its 10-strong air ambulance fleet comprising Learjet 60, Challenger 604 and most recently, its Bombardier Global Express is based at FAI´s Headquarters at Albrecht Dürer International Airport in Nuremberg.  It is supported by more than 250 full-time staff plus 50 part-time physicians, nurses and paramedics. The company also specialises in air support in hostile areas for the world´s largest NGO.
FAI has participated in the ITIJ awards since 2004 and was named Air Ambulance Award winner in 2012, 2020 and now 2021.
back to top