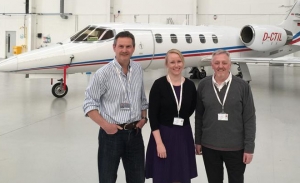 Air Alliance Medflight has continued its rapid expansion of air ambulance services by setting up a UK based aeromedical team. 
"We are very excited to announce that we now have integrated medical capabilities in the UK which are led by Medical Director, Dr Jon Warwick and Clinical Services Manager, David Quayle. We have further enhanced this team by Chief Flight Nurse, Tiina Kauhanen and Jane Topliss who will oversee the entire UK operation." says Wolfgang Krombach, Managing Director at Air Alliance Medflight.
"The UK presents an exciting opportunity, and we recognise that local skills and reputation are extremely important. Dr Warwick and his team will enable us to work very closely with our clients and help with specialist services such as hospital admissions and road ambulance bookings in the UK and ROI," continues Mr. Krombach.
The UK based services will operate from modern facilities at Birmingham Airport and initially will have 2 Learjets 35A, both available in double stretcher configuration. All client requests will be handled centrally from Medflight's Alarm Center in Germany.
24/ 7 contact:
+49 2736 4428 45
This email address is being protected from spambots. You need JavaScript enabled to view it.
Dr Jon Warwick is looking forward to being involved in the continued expansion of Air Alliance Medflight. "This represents a very exciting opportunity for the UK and ROI market. Air Alliance Medflight operates a fleet of 15 air ambulance aircraft total, consisting of Challenger 604, Learjet 55 and 35A. The teams of Air Alliance Medflight are all dedicated to its core principles: excellent quality and patient safety."
Air Alliance Medflight, part of the Air Alliance Group, is an air ambulance company with headquarters at Siegerland Airport and a further base at the airport of Cologne. Since it was founded in 1993, Air Alliance has developed from a small hangar operation to a state-of-the-art general and business aviation supplier. Covering the comprehensive strategic business aspects of aircraft maintenance, sales, charter operations and a flight school, Air Alliance maintains a leading position in the market.
Read more...