Frank Mee Appointed President Of Insurance Ireland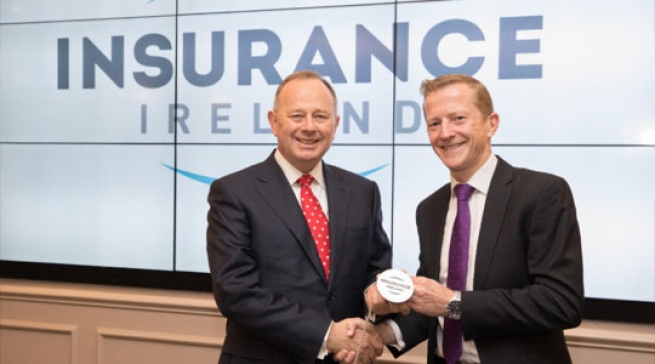 Frank Mee of Allianz Worldwide Care receives the chain of office from outgoing Insurance Ireland President Ken Norgrove of RSA Ireland Insurance
Brexit & the Year of Inclusion initiative among the new President's priorities for the year ahead.
CEO Kevin Thompson: "Frank's track record of industry leadership will be of great benefit to Insurance Ireland in the year ahead".
Frank Mee of Allianz Worldwide Care has been appointed Insurance Ireland President following its recent Annual General Meeting.
Frank has been a central figure in Insurance Ireland for many years including as a Board member, Chair of the Insurance Ireland International Council and as the Chair of the Inclusion Task Force, which developed the Year of Inclusion concept.
Speaking following his appointment at the Insurance Ireland AGM, Frank said "Insurance Ireland is a critical voice for our industry and this position has been further reinforced following our recent merger with DIMA, which was ably overseen by our outgoing President Ken Norgrove.
"Insurance Ireland now represents over 140 insurers, reinsurers and captives in a major industry that employs approximately 28,000 people and I will use my time to bed down our merger to capitalise on the collective strength of our membership. This will enable our industry to respond to challenges such as Brexit and to harness the potential of our Year of Inclusion initiative to connect with current and future employees."
Welcoming Frank Mee to the role of President, Kevin Thompson, CEO of Insurance Ireland, said "Frank's track record of industry leadership will be of great benefit to Insurance Ireland in the year ahead. As our membership has grown, so has our remit and our ambition and Frank's Presidency will be a vital component of our strategy."
Kevin concluded "I would also like to thank our outgoing President Ken Norgrove for his exceptional work throughout his tenure."
Latest from International Private Medical Insurance (IPMI) Magazine
back to top