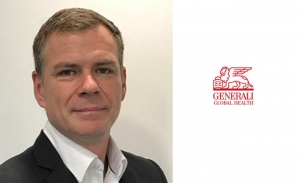 Leading international health insurance provider, Generali Global Health, has appointed Chris Campbell to spearhead growth across the Asia Pacific Region. As Head of Business Development - Asia Pacific, Chris will be responsible for expanding the company's regional footprint through the development of existing and new broker relationships.
A Canadian national, Chris has 23 years' experience of living and working in Asia - 21 based in Japan and two in Hong Kong. Chris joins from Aetna International, where he was the Senior Sales Director based in Hong Kong, and responsible for Government and Key Accounts across Asia. Prior to Aetna, Chris was Country Manager for InterGlobal in Japan.
"Chris brings a comprehensive understanding of Asian markets, and a proven record in driving business growth through a first-rate approach to broker engagement and client servicing." said Stuart Leatherby, CCO at Generali Global Health. "Asia Pacific is a key strategic region for Generali Global Health and we are delighted to welcome Chris to the team."
Chris is restructuring the GGH business team in Hong Kong, which includes changes in personnel and will develop GGH's capability significantly in the region.
Read more...