AP Companies Wins Best International Assistance Company Of The Year At 2021 ITIJ Awards Featured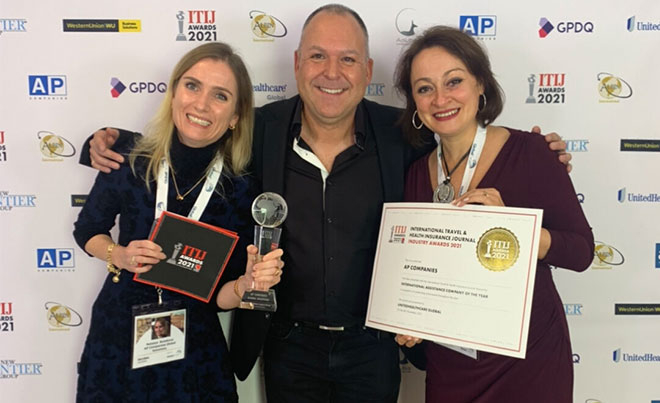 In The iPMI Picture (left to right): Natalya Butakova, Business Development Director, AP Companies. Louis Kaszczak, European Partnerships Director at United Health Group, Global Markets and Elena Donina Glukhman, Project Manager, AP Companies.
The International Travel & Health Insurance Journal (ITIJ) has awarded AP Companies the 2021 award for "Best International Assistance Company of the Year". The award was sponsored by UnitedHealthcare Global.
The ITIJ Awards are the leading accolade for the global travel and health insurance industry, rewarding companies that go above and beyond to serve their customers and clients and drive forward positive change in the industry, showcasing excellence and innovation across all sectors that serve global travellers.
Paul Weigall, Business Strategy Director, at AP Companies comments, "It was my pleasure and honour to receive, on behalf of AP Companies, the award for Best Medical Assistance Company at the 2021 ITIJ awards. We have won this award for the second year in a row and is testament to the amazing work our teams do in ensuring our clients members get the help and service they need. Well done team! And well done to ITIJ for getting us all together in Madrid."
AP Companies satisfies the expectation of the most demanding healthcare and travel insurance companies, while providing their members' access to the medical providers in 185 countries. Their medical provider network is comprised of medical facilities capable of handling all levels of medical care to assist with any possible healthcare requirement of their clients, wherever and whenever.
Since the early stages of the COVID-19 pandemic, AP Companies has been building a network of global providers for PCR and antigen testing. Forming strategic alliances with a number of laboratories worldwide to ensure the quickest and most reasonably priced covid testing solutions.
The demand for mental health services has also been constantly rising. Through their tele healthcare platform, they are successfully delivering service in Central & Eastern Europe, as well as in the other regions on request.
AP Companies has also been highly involved in arranging seasonal flu vaccinations across Europe and Eastern European countries.
back to top