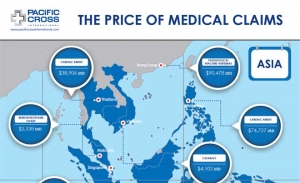 The latest info graphic from Pacific Cross International, looks at medical costs around Asia.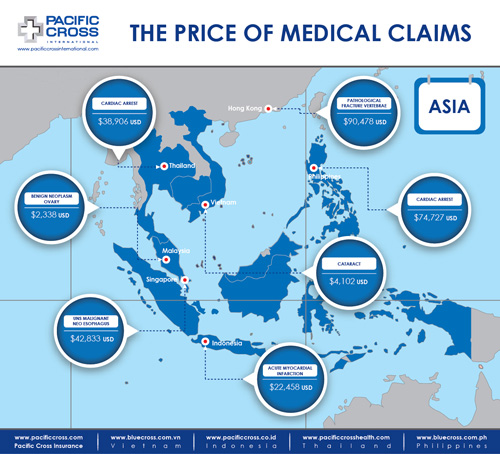 Medical Costs In Asia March 2016
Thailand treatment of CARDIAC ARREST $38,906 USD
Malaysia treatment of BENIGN NEOPLASM OVARY $2,338 USD
Singapore treatment of UNS MALIGNANT NEO ESOPHAGUS $42,833 USD
Indonesia treatment of ACUTE MYOCARDIAL INFARCTION $22,458 USD
Vietnam treatment of CATARACT $4,102 USD
Philippines treatment of CARDIAC ARREST $74,727 USD
Hong Kong treatment of PATHOLOGICAL FRACTURE VERTEBRAE $90,478 USD
About Pacific Cross International
Pacific Cross International is a holding company for the Pacific Cross International group of companies. The group has provided health insurance in Asia for over 65 years. The companies operating entities are located in Hong Kong, Philippines, Thailand, Indonesia, Vietnam and Cambodia. Pacific Cross International as a group provides health insurance for over 75,000+ people representing 53 nationalities living in 42 countries. In 2014 the group provided travel insurance for 2,642,514 travel days for over 200,000+ people.
Read more...