The Cost Of International Health Insurance In 100 Countries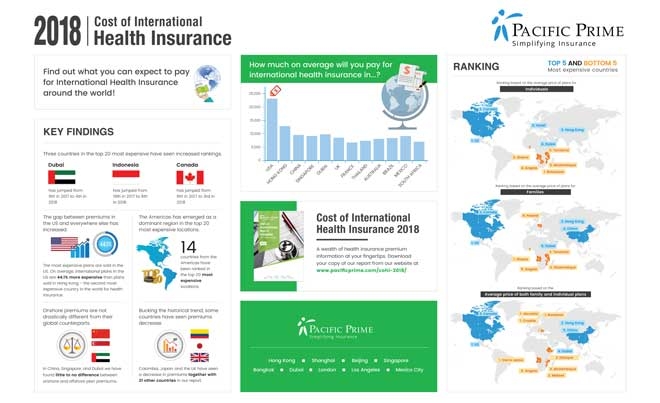 Pacific Prime Insurance Brokers has released a new report on the cost of international health insurance in 2018. Looking at the premiums of health plans in 100 locations, the study revealed that the average price of international health insurance across all demographics, locations, and insurers in 2018 ranges from USD 6,201 in Angola and USD 23,120 in the United States.
Breaking the premium data down by demographic, Pacific Prime found that the average cost of international health insurance varies immensely across different locations:
Individual health insurance plans span from an average of USD 3,120 in Tanzania to USD 11,492 in the US
Family health insurance plans span from an average of USD 9,250 in Angola to USD 34,298 in the US
As highlighted in the infographic featured above, the US is the most expensive country in the world for international health insurance, followed by Hong Kong with an overall cost of USD 12,927; Those in Canada, Dubai, and China saw an average cost of USD 10,361, USD 9,917, and USD 9,639, respectively.
Pacific Prime has highlighted a number of core findings that they believe will significantly impact people securing international health insurance in 2018 and beyond:
The gap between average premiums in the US and the other 99 locations studied have increased;
The Americas has emerged as a dominant region in the report's top 20 ranking of the most expensive countries for health insurance;
Bucking the historical trend, a number of locations have seen premiums decrease;
Dubai, Indonesia, and Canada have seen significant increases in their rankings.
A cursory overview of the study's findings is displayed in the infographic above, but the full PDF version of Pacific Prime's Cost of International Health Insurance - 2018 report is available to download for FREE from their website here. Alternatively, you can click here to access the online version of the report, which features interactive graphs and additional regional premium analysis.
back to top