Teladoc To Acquire Best Doctors To Provide Virtual Healthcare Delivery Platform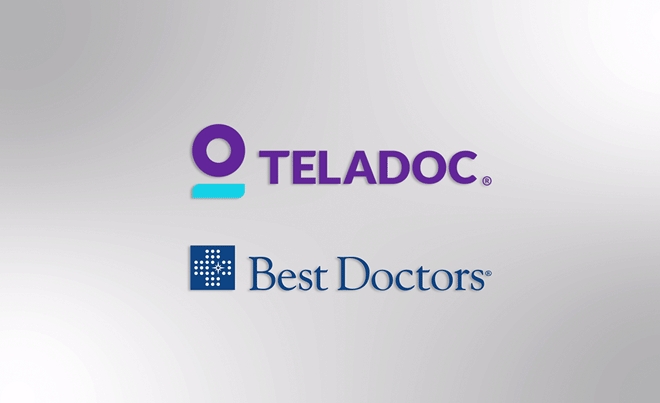 Teladoc, Inc. has announced that it has entered into a definitive agreement to acquire Best Doctors.
Teladoc is creating a new paradigm for how patients access care by delivering a powerful connected care platform – a single solution for addressing a complete spectrum of medical conditions, from non-critical, episodic needs to chronic, complicated medical conditions. By leveraging the proven portfolio of healthcare solutions from both Best Doctors and Teladoc, members will have one simple, virtual, patient-centric way to resolve their healthcare issues, improving outcomes and reducing costs.
"Today is a big day for patients and the greater healthcare system. At Teladoc, our vision has always been to provide the central, trusted source for consumers to find resolution to the broadest array of healthcare needs, on their terms," said Teladoc CEO, Jason Gorevic. "Now with Best Doctors' network of world-renowned experts in over 450 specialties, global footprint, and exceptional analytic capabilities, we are taking a monumental step towards making that vision a reality."
Best Doctors has redefined the standard for addressing high acuity, complex care cases with a patient-centric clinical model proven to drive better outcomes for hundreds of the most high-cost medical conditions. Using advancements in analytics, cognitive computing, and an award-winning patient-centric process, the company brings the brightest minds in medicine to provide answers to the most complex medical concerns for their millions of members. The Best Doctors global network consists of 50,000+ medical experts who are peer-rated in a Gallup-certified poll as the top 5% of physicians in more than 450 medical specialties. In every major region of the world, the suite of Best Doctors solutions plays an important role in population health management, with the ability to monitor, react and positively affect change.
"By combining data and analytics with a focus on nothing but the highest standard for care, we've successfully created a better way for patients and their families across the globe to get resolution to the most life-changing medical conditions," said Best Doctors CEO, Peter McClennen, who will continue to lead Best Doctors as president of the new division of Teladoc. "Now aligned as one greater organization under Teladoc, the impact we can make together is tremendous, delivering a paradigm shift in care access that comes with a phenomenal patient experience, unprecedented outcomes and cost savings."
This acquisition builds on Teladoc's successful track record of acquiring and integrating companies with common purpose, complementary capabilities, and access to new markets.
Teladoc will marry its award-winning technology, industry-leading engagement capabilities, and robust, scalable platform with Best Doctors' world-renowned network of medical experts, analytics expertise, patient decision-support, and regional expertise on a global scale. The newly combined company offers a highly differentiated suite of virtual care delivery solutions for a broad range of market segments, spanning the full spectrum of employers to health plans and health systems. Furthermore, Teladoc will now develop and deploy global expansion plans, meeting a broader spectrum of care needs outside the U.S.
Latest from International Private Medical Insurance (IPMI) Magazine
back to top