QIC Group Delivers On Its Global Expansion Strategy - Qatar Re's Acquisition Of Markerstudy Group's Insurance Companies As The Latest Milestone Featured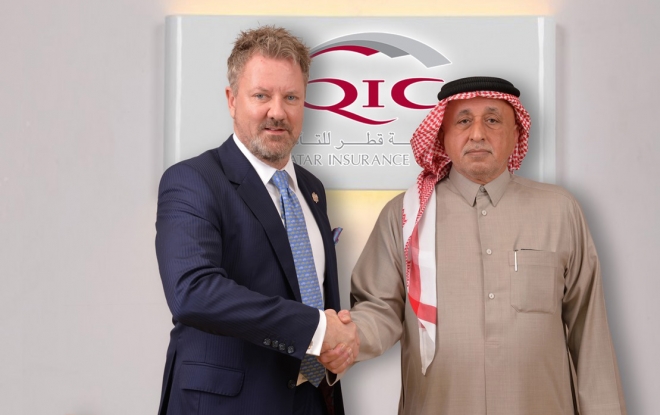 Qatar Insurance Company (QIC) Group, a leading insurer in Qatar and the MENA region has reported that its global expansion and diversification strategy is progressing according to plan, as evidenced by the recent acquisition of Markerstudy Group's Gibraltar-based insurance companies by its reinsurance arm, Qatar Re, which is subject to regulatory approvals.
Mr. Khalifa Abdulla Turki Al Subaey, Group President & CEO of QIC Group commented, "The Markerstudy transaction is yet another important milestone on our journey towards becoming a Global Top-50 Insurance Group. This is the vision our Board of Directors formulated back in 2011 when QIC Group's non-MENA business represented just 20% of our total portfolio. Meanwhile, we have successfully repositioned Qatar Re as a global player and Antares as our Lloyd's specialty platform. Including the Markerstudy companies, the share of QIC Group's non-MENA business will soon exceed 80%."
Mr. Al Subaey continued, "The main strategic attraction of this unique deal is the addition of a sizeable lower volatility book of U.K. motor insurance business with predictable and long-term profitability. Moreover, through our subsidiaries Qatar Re and Antares, we are well positioned to benefit from any cyclical upturn in global specialty and other non-motor (re)insurance markets. And, finally, the Markerstudy transaction will enable QIC Group to continue writing U.K. business under any post-Brexit scenario."
Looking towards the future, Mr. Al Subaey concluded, "We will continue to prudently pursue our global expansion and diversification strategy whilst further consolidating our leadership position in the MENA region. Through our subsidiaries and growth engines Qatar Re, Antares and QIC Europe Limited, QIC Group has established a meaningful presence in key international insurance and reinsurance centres such as Bermuda, London, Zurich, Malta, Singapore and Shanghai. Through the Markerstudy transaction, we continue to strengthen the foundation for our target – which is closely aligned with His Highness the Father Emir Sheikh Hamad bin Khalifa Al Thani's Qatar National Vision 2030 – of becoming a Global Top-50 Insurance Group."
Boosting QIC Group's footprint in the UK
On 3 January 2018, QIC Group's reinsurance subsidiary Qatar Re announced the acquisition, subject to regulatory approvals, of Markerstudy Group's Gibraltar-based insurance companies, namely Markerstudy Insurance Company Limited, Zenith Insurance PLC, St Julians Insurance Company Limited and Ultimate Insurance Company Limited. Markerstudy underwrites more than 5% of the U.K. motor insurance market, generating annual premiums of about £750 million.
Through this acquisition, Qatar Re will underwrite a balanced portfolio in a line of business in which it has significant experience and understanding. A carefully managed exposure to the U.K. motor market adds lower-volatility business that balances Qatar Re's more volatile reinsurance lines.
The QIC Group has an existing substantial relationship with Markerstudy through Qatar Re and QIC Europe Limited. Indeed, Gunther Saacke, Qatar Re's CEO, wrote the first quota share reinsurance treaty of the start-up Markerstudy Group in 2001, building a thorough understanding and deep appreciation of Markerstudy's business.
As part of the transaction, QIC Group and Markerstudy will enter into a long-term agreement under which Markerstudy's underwriting agencies in the U.K. will continue to exclusively write the existing business into the Gibraltar-based insurance companies and potentially develop new products. As a result, QIC Group will benefit from a continuous flow of business.
Latest from iPMI Magazine
back to top