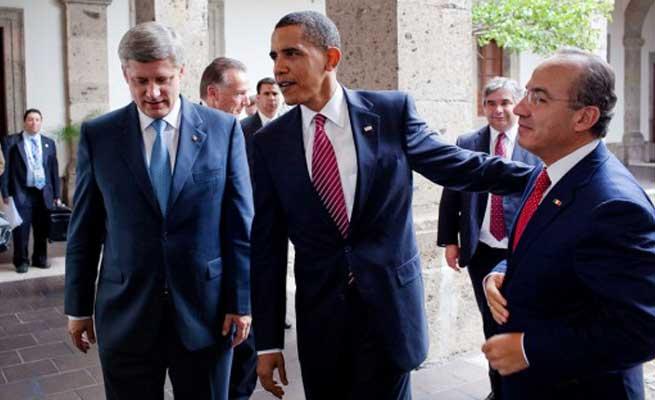 Prime Minister Stephen Harper, and Presidents Barack Obama and Felipe Calderón at the 2009 North American Leaders' Summit in Guadalajara.
Following Brazil's example, the new government, led by president Enrique Peña Nieto, wants to use the stable growth in order to further strengthen the growing middle class. In the past, the 'clasmedieros' had already begun to expand significantly. Over the past ten years, the middle class has grown by a good nine million people.
Today, around 65 million Mexicans, over half of the total population, belong to the middle class. Around 98 percent of Mexicans now have electricity. The number of people who own a telephone has increased from 36 percent to 43 percent in the last few years; for computers, the figure has increased from 9 percent to 29 percent, and for fridges from 68 percent to 82 percent.
And Mexico has another distinguishing feature: the country of the Aztecs is young. Over half of the population is under 30, and people are becoming increasingly well qualified. The proportion of university graduates is also relatively high for Latin America at 8.4 percent. Almost 50 percent of all 15 to 24 year olds in Mexico now attend a secondary school. Simultaneously, at just under seven percent, the illiteracy rate has almost halved in recent years.
More mobile phones, computers and other consumer goods: with increasing prosperity and regular income, our natural wish to protect our possessions against loss and set money aside for retirement grows too. "This environment can offer Allianz enormous opportunities for growth", Sergio Ghibellini, CEO of Allianz in Mexico, is convinced.
"Due to the country's economic power and a market penetration rate that is still low and thanks to a reliable legal framework, the insurance market in Mexico will experience above-average growth over the next few years, and Allianz will be able to participate in this," continues the CEO.
Since its entry onto the market in 1985, Allianz in Mexico has continuously expanded its range of products for both corporate and retail customers. It now offers a wide selection of property and casualty (P&C), life and health insurance products. With around 600,000 customers at present, Allianz has a sound customer base in the second largest insurance market in Latin America, which is to grow significantly in the coming years as sales channels are strengthened. Allianz insurance products are primarily sold in Mexico by brokers and agents.
In the area of P&C, Allianz Mexico is already among the front runners in the Allianz Group, with a combined ratio of 90.8 percent. In 2012, gross written premiums increased by nine percent to 266.5 million euros. Operating profit in this segment rose significantly by 46 percent, to 19.5 million euros. Mexico is not just young, however. Mexico is getting ever older, too.
Thanks to fundamental improvements in the healthcare sector, the average life expectancy for people there has risen consistently over the past few years, and now comes in at 77. This means that the emerging middle class is also starting to turn more attention to issues like healthcare and retirement provision.
This is also reflected in the figures for Allianz in Mexico. In the past three years alone, gross written premiums in the area of life and health have tripled to their current level of around 150 million euros. Nonetheless, market penetration in this segment still accounts for less than one percent of the gross domestic product.
Sergio Ghibellini: "This shows just what enormous potential for growth there is for us here."
Experts calculate that with predicted economic growth of four percent, consumer spending will increase by 10 to 15 billion US-dollars per year. Part of this money will certainly be allocated to safeguarding this prosperity and to retirement provision.
Sergio Ghibellini: "We are well prepared to meet this demand with suitable products and services."
Mexico's example illustrates once again how important sustainable growth is for the development of a stable middle class, which in return reinforces consumption with its purchasing power and thus ensures continued growth, more jobs, increased prosperity and stable domestic demand. And finally, yet another piece of good news: according to a recent study, Mexican consumers are currently assessing their financial situation more positively than at any other time in the last five years. Solid finances, sustainable growth, an expanding middle class and optimism: Mexico has more to offer than just sun, sand and beaches.
back to top