iPMI Magazine Round Table: International Medical Cost Containment Strategies 2022 Featured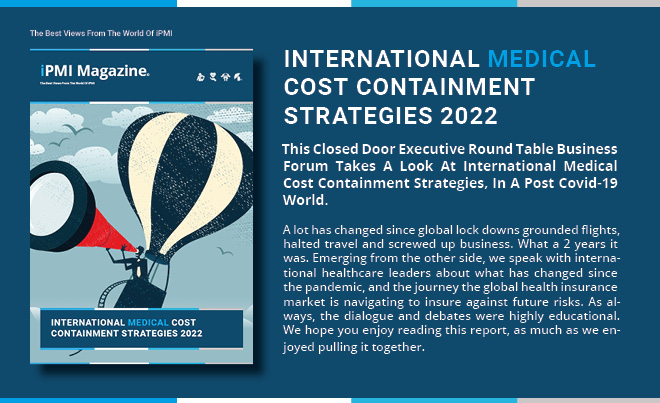 ON THE FRONT COVER: With flights grounded, and the world locked down, our intrepid traveller looks for alternative means of transport.
This Closed Door Executive Round Table Business Forum Takes A Look At International Medical Cost Containment Strategies, In A Post Covid-19 World.
A lot has changed since global lock downs grounded flights, halted travel and screwed up business. What a 2 years it was. Emerging from the other side, we speak with international healthcare leaders about what has changed since the pandemic, and the journey the global health insurance market is navigating to insure against future risks. As always, the dialogue and debates were highly educational.
Round Table Executives
Elena Donina Glukhman
AP Companies
Nicole Perreault
AXA Partners US
James Walker
Charles Taylor Assistance
Dr Peter Mills
Cigna Europe
Susan Yates
Falck Global Assistance
John Speers
Global Excel
Monica Rummelhoff
GMMI
Gitte Bach
New Frontier Group
Mike Rizo
Pharmcare
Sumit Gaurav
Roy Medical Assistance
Alerah Turner
World Travel Protection
How To Download International Medical Cost Containment Strategies 2022
CLICK HERE to view or download the round table in PDF format.
For the best reader experience we recommend downloading the PDF and viewing in Adobe Acrobat.
If you have any issues accessing Google from your corporate network, feel free to contact us, for an alternative method.
We hope you enjoy reading this RT report, as much as we enjoyed pulling it together.
LEGAL: © 2009-2022 All rights reserved. iPMI Magazine is protected by copyright and may not be copied, distributed, republished or used in any way without the express written permission of the publisher. By using iPMI Magazine you agree to the terms and conditions of use.
back to top