Insurance Industry Unites To Support The People Of Ukraine Featured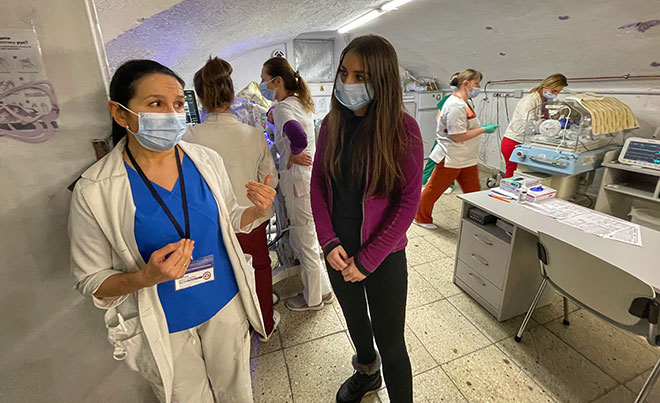 Insurance businesswoman and entrepreneur, Kirsty Diclaudio, has just returned from a humanitarian mission to Ukraine, where she helped to deliver electric generators, power banks, blankets, hot water bottles, clothing and medical supplies to the people in the country.
As the war in Ukraine surpasses its tenth month, the country has been plunged into a deep freeze. And, with Russia targeting critical infrastructure, including electricity and water supplies, millions of people have been left homeless and fleeing families without basic life support necessities. 
The mission was made possible after a fundraising event on 8th December, organised and hosted by Diclaudio, alongside business partner Sarah Watson, who co-founded THIS (Travel & Health Insurance Series) - conferences and networking events for the global travel and health insurance industry.
Donations from the industry and the event sponsors, combined with donated equipment from several companies keen to support the mission, meant that just three days after the event, THIS were able to deliver just over £22,000 worth of supplies to Ukraine.
It was all made possible thanks to the generous support of the insurance industry, coming came together to support a worthy cause - and, trusting that Diclaudio and Watson would identify where the supplies would be most needed. However, what the sponsors and donors did not know is that less than one week after the fundraiser, Diclaudio would travel to Ukraine to purchase and hand- deliver those essential items.
Absolute secrecy was essential for security reasons. Diclaudio ensured she took all necessary safety measures before embarking on such this mission. This included engaging risk advisory firm Inherent Risks, who have been enabling global media and non-governmental organisations to operate safely in Ukraine since the conflict began.
Tapping into her extensive network within the industry, Diclaudio also secured high-risk emergency medical and evacuation insurance through Hotspot Cover, underwritten by Atrium Underwriters, a Lloyd's insurer.
Finally, after a nine-9 hour vehicle overland journey from Poland into Ukraine, Diclaudio and her security team drove to a Soviet-era residential block to meet desperate families with young children, who had been without power, heat, hot water or reliable access to warm food for prolonged periods. After this, she met an organisation that supplies front-line troops who are risking their lives every day, donating warm weather clothing and medical supplies.
After a night in a hotel in complete darkness with no essential services due to electricity blackouts, soundtracked by air raid sirens, the realities of day-to-day life that the victims of this war have endured, was a sobering experience.
The following morning, Diclaudio visited an underground air raid shelter to see first-hand what living conditions are like, before being escorted to and around the main hospital in the city. Here she spoke to staff and patients who will benefit from the donations of generators, battery packs, blankets, clothing and other requested supplies.
"A heartbreaking moment was being led into a dilapidated basement, to find a neonatal ward of very unwell, vulnerable premature babies. They are in the basement as it was the safest space in the hospital in the event of an incoming missile from Russia hitting in or around the hospital. The staff, although lacking basic medical supplies and facing their own troubles at home caused by war, remained incredibly positive and professional."
Sitting at the border, for now the seventh hour, in below freezing temperatures as I write this press release, I feel compelled to tell this story - to raise awareness. And, perhaps more importantly, to return very soon to help the people and causes I've been introduced to on this incredibly humbling and emotional mission.
back to top