Holiday Industry Bounce-Back On The Cards As Britons Focus On Quality And Safety Over Price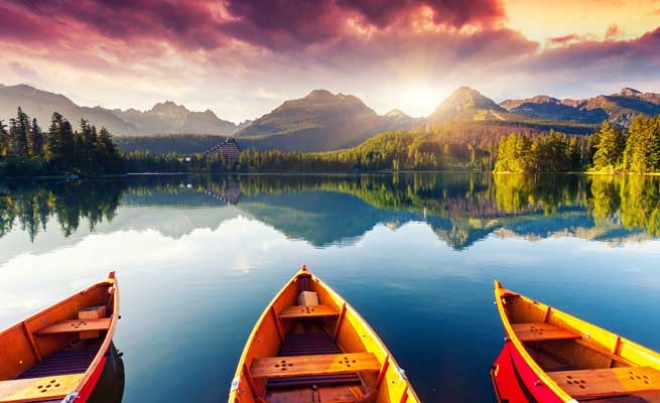 Brits are prepared to spend £1,334.82 extra on ensuring holiday safety
Majority of British households (55%) want to get away now vaccinations are being rolled out 
Quality over price: 36% of people want the very best insurance that covers them for COVID before their next trip
Covid-19 may have disrupted the global travel industry in 2020, but it has not diluted the public's hunger for overseas holidays. According to a new consumer insight report by AllClear Travel Insurance, the industry will bounce back in 2021 – although the new focus on safety and quality has replaced the once-popular focus on bargains and cheap deals. 
The study, out today, is the first of its kind to track consumer attitudes towards travel throughout the course of the pandemic era – tracking opinion and sentiment at each pivotal point of the last year - the lockdowns, the tier restrictions, the response to news of breakthroughs with the vaccines. 
The report at a glance:
Emerging from lockdown
After the first lockdown, two thirds of Britons wanted an overseas holiday in the summer and safety emerged as the top priority for holidaymakers, rather than price.  More than two in five respondents (44%) said they wanted to visit a country with a good COVID record, whilst 36% said that having the best insurance cover possible, covering them for COVID, was top of their agenda. 
As popularity for last minute deals and cheaper air fees dropped – AllClear found that UK adults were prepared to spend £1,334.82 more than they would usually on their holidays to ensure their trips would be as safe as possible.  This rose to £1,644.23 for those with underlying health issues. 
Tightening the reins once again
In the autumn when UK restrictions began to tighten, once again AllClear's study showed that UK residents were itching to get away from their homes. The percentage of people looking to book a short haul break doubled from 24% in July to 51% in November. Whilst appetite for long haul breaks tripled from, 10% in July to 30% in November. 
Interestingly, the type of break that holidaymakers were choosing reflected the impact of the pandemic. The research suggested that staycations rose in popularity - with 17% of those looking to book a getaway opting for a villa or private house, compared to just 5% who were choosing to book a cruise. 
Rumours of a Vaccine
With news of a possible Vaccine at the end of 2020– more than half of UK adults (55%) said they would feel comfortable going on holiday again as traveling came a top priority for plans in 2021. The resurgence of interest in planning holidays was strongest amongst older people, and was consistently popular across all UK regions – an early indication that the travel sector could find its feet quicker than has been reported in the news. 
Chris Rolland, CEO of AllClear Insurance comments: "There's no doubt that the travel industry has taken a severe multi-billion pound knock but for 2021 UK consumers are intending to travel and their focus is now more on safety and quality rather than a hunt for a bargain break."
"For more than 20 years, award-winning AllClear has helped cover more than three million policyholders. We are passionate about enabling people to obtain specialist travel insurance whatever their pre-existing medical conditions or age - and we will be leading the charge to make travel safe again this year so people can have those dream holidays as soon as the Covid threat subsides. Covid has been an assault on people's most basic freedom, the freedom to travel, and we expect to see an emphatic holiday boom this summer as the vaccine helps us to turn the tide on this terrible pandemic."
More detail on the AllClear COVID-19 policy:
Medical expenses - up to £15 million emergency cover for Covid-19. 
Cancellation and trip curtailment cover for COVID-19 - if a family member becomes ill with Coronavirus or has to quarantine as a result of medically diagnosed Coronavirus.
Full Repatriation - cover on costs to bring you back to the UK. 
Carer expenses: Up to £2,000 expenses for a friend or relative to travel from your home area to stay with you.   
Recuperation cover - costs for a continued recuperation stay.
Emergency flights - costs for your return flight following an enforced stay due to Coronavirus.
Up to 30 days free extended cover - should your policy expire whilst you are ill with, quarantined or recuperating from COVID-19 on holiday.
Factors that became more important to those considering an overseas holiday in the months ahead
| | |
| --- | --- |
| Picking a destination based on its safety in terms of COVID-19 | 44% |
| The risk of the country going back into lockdown | 42% |
| Social distancing on flights – not getting on a packed plane | 39% |
| Having the best insurance cover that fully covers me for COVID-19 | 36% |
| The state of the health service in the country I'm visiting | 36% |
| The prospect of having to go into quarantine when I'm back | 30% |
| Comfort that airports would be safe | 29% |
| Avoiding using public transport | 27% |
| Good customer reviews online for the safety of the resort | 26% |
| Paying more for quality insurance rather than getting the cheapest cover | 21% |
| The country's track record for expertise in medical conditions that I have | 20% |
| The ability to drive to my destination rather than use a plane | 17% |
| The hotel/resorts proximity to a good hospital | 14% |
 

With underlying health issues

 

Average £

Those with £

Those without £

Quality of resort or hotel

308.15

284.95

318.43

Grade of travel (first class)

213.55

221.21

209.87

Choice of airline

198.37

216.84

189.85

Car rental

136.16

144.33

132.44

Food/quality of restaurant

130.22

169.51

113.38

Private excursions

124.45

321.79

324.41

Travel insurance that covers pre-existing conditions

88.01

117.41

73.03

Travel insurance that covers factors relating to COVID-19

82.49

103.91

72.86

Taxis rather than public transport

53.42

64.28

48.41

Total

1334.82

1644.23

1482.78
back to top