International Health Insurance 2019: The Definitive iPMI Market Report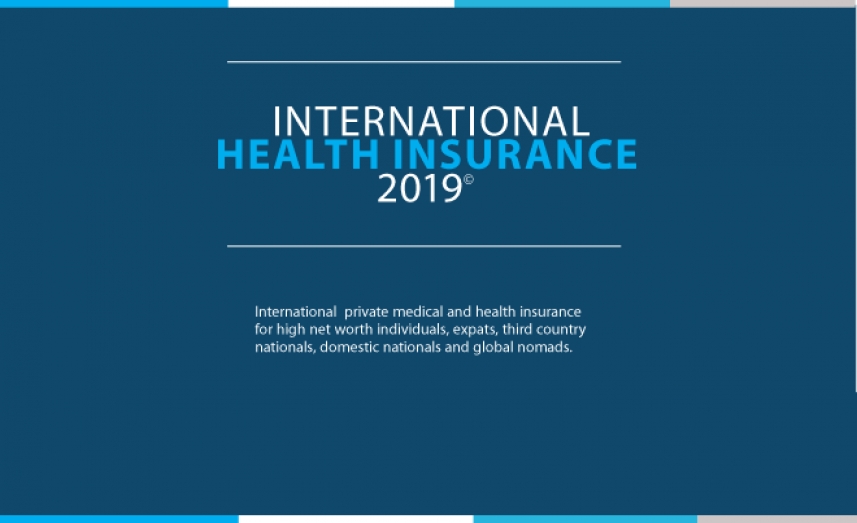 There are more opportunities than ever for insurers and brokers to sell health insurance globally to locals and internationals.
The global demand for health insurance is rising fast;
There are opportunities for health insurers and brokers;
The numbers of expatriates are rising and will increase;
IPMI and PMI are no longer separate;
Locals, students and NGO workers need cover;
Many more countries are making health insurance compulsory;
Healthcare and health insurance are becoming intertwined;
Top up cover and micro health have massive potential;
Technology will change how insurers, brokers and customers interact.
International private medical insurance is flourishing. There are more globally mobile individuals than ever before - and employers are building businesses in more diverse countries.
Volume 1 Market Overview: April 2019 (230 pages)
Volume 2 Companies: Available July 2019 - 133 company profiles (over 500 pages)
Volume 3 Countries: Available September 2019 - 180 country profiles (over 600 pages)
PRICING: iPMI Magazine advertisers and subscribers enjoy complete access to ALL 3 VOLUMES of International Health Insurance 2019 at a specially negotiated reduced price*. Other retailers are charging £3600 for all 3 volumes and £1400 for individual volumes.
ABOUT THE AUTHOR: Ian Youngman is a writer and researcher specialising in insurance. He writes regularly for a variety of magazines, newsletters, and on-line services. He publishes a range of market reports and undertakes research for companies and has London market management experience with brokers and insurers. 
REPORT PRICE COMPARISON: To view International Health Insurance 2019 on Research and Markets and compare their price VS the price at iPMI Magazine please click here.
BUY NOW: To order this must have IPMI market report simply write to ipmi[at]ipmimagazine.com and we shall do the rest. Once we receive your order an invoice will be issued directly by the report author, and once that is paid and processed, a complete copy of the report will be made available to you in PDF format.
*This offer is only available when you purchase this report via iPMI Magazine. 
RELATED IPMI MAGAZINE READING: Understanding PMI And IPMI Market Size Per Country
ABOUT iNTERNATIONAL HEALTH INSURANCE 2019
International private medical insurance (IPMI) was traditionally considered an exclusive health insurance plan for expatriates. Now, the definition of an expatriate is obsolete because more people, including local nationals and expats, regularly travel internationally, due to their lifestyle, income and careers.
These people need international medical insurance irrespective of their national status or residency. Local nationals, expats, and global nomads are driving demand for IPMI products well beyond any residency classification.
The globally mobile population has grown dramatically along with the increased global business. There are 66 million expatriates, and by 2020 this will be 87.5 million. 260 million people now live away from their country of birth and within a decade the total number of expatriate workers and international students will be 100 million.
IPMI as health insurance without borders is the future of health insurance for all people irrespective of their country of nationality, residence or current domicile. The domestic health insurance market is changing and expanding in many markets around the world. Technology, innovation in health treatment and digitisation of processes are also powerful shapers of the future of health insurance.
Compulsory insurance, voluntary top-up covers, differences between what you can sell to locals and expatriates, rules on overseas investors, compulsory local partnerships, economic sanctions, and even local politics are all things that insurers and brokers must understand- as are newer factors of controls on insurance and healthcare prices, and recent compulsory health insurance rules for travellers or students.
There have been several new entrants to the global healthcare insurance and ancillary services market, long dominated by a small handful of existing insurance companies. Regional insurers and brokers are active in the sector.
The focus on wellness and the proactive approach of keeping customers healthy is a key change. The focus is health insurance, not just illness insurance and, proactively engaging with customers to help them lead long and healthy lives.
Technology is changing the market, with access to information and care through mobile applications and innovations such as virtual health, telemedicine and virtual GP services. Data will also drive more accurate underwriting and wellness solutions at an individual customer level. The days of the fully personalised cover are not far off.
IPMI must comply with local laws and regulations and local needs that differ considerably from country to country.
IPMI overview contents
Volume 1
Introduction
Overview

Growth of need for IPM

Health insurance definitions

Expatriate definitions

Voluntary health insurance

Why IPMI and PMI are no longer separate

Social and technological disruption

Duty of care

Why insurers are moving into PMI/IPMI

The changing insurance ecosystem

Customer centricity

Blockchain

Emerging markets

Belt and Road initiative

Middle East and North Africa

Asia

IPMI must cover more than insurance

The future
International health insurance numbers
Global premium figures

Onshoring and offshoring

Premium retention in countries

Premiums and local taxes

Local partnerships

Muddying the waters

It is not health insurance
Health insurance
Compulsory health insurance

Health insurance market potential

Global medical price trends

Health insurance pricing trends

Global health insurance price and trends

Health insurance and universal healthcare

Global benefits

Digital transformation
Healthcare
Health at a Glance Europe 2018

Global healthcare
International health insurance market
Buying the market overseas

Distribution

Healthcare or health insurance

History

Market potential

Hospitals offering health insurance

Numbers of insurers

Insurance companies

Latin American healthcare potential

Lloyd's of London

Lloyds' brokers

Managing general agents

Third party administrators

Insurance brokers

Financial advisors

Insurance agents

Banks

Health insurance trade bodies

Health insurance comparison sites

Micro insurance

Mobile devices

Self- insurance

Smart phones

Social media

Videos
International health insurance products
Cover

International insurance versus domestic insurance

IPMI in 2019
Expatriate figures

Global number of expatriates

Global population

Expatriates, migrants and refugees

Global mobility

Expatriate population as % of worldwide population

Expatriate or international migrant

Refugees and expatriates

International students

Migrant workers

Cross border workers

Diasporas

Migration and health
Customers
Target markets for insurers

What is an expatriate?

Expatriate characteristics

Expatriate salaries and benefits

Buyers

Dependants

Emerging markets middle class

Generation Y

More than one product

High net worth

How people choose international health insurance

Indian companies

Maritime

Mining

Music industry

NGOs

Need

Oil and gas

Overseas employees need support

Questions potential customers ask

Retirees

Self-employed

Short assignments

Short-term cover

Singles

Students

Target ages

Teachers

Wealthy expatriates

Who can be covered?

Why companies buy it

Why individuals buy it

Why needs are changing

Why not just buy cover locally

Women
The product
Addiction treatment

Admitted policies

Apps

Big data

Budget covers

Cancer

Chatbots

Choice of cover or set packages

Claims

Compliance with local law

Co-payments

Critical illness

Currency

Danger zones

Diabetes treatment

Diaspora insurance

Duty of care

Emergency assistance

Emergency evacuation

European Air Medical Institute

Fertility treatment

Fraud

Funeral plans

Global cover

Helplines

Income protection

Insurers rethink of health insurance

International medical accreditation

Medical evacuation and repatriation

Medical tourism and insurance

Medical travel insurance

Mental health

Micro health insurance

Obesity treatment

Organ transplants

Passive war

Political risks

Pricing

Price regulation

Pricing on group schemes

Private repatriation

Risk management

Second medical opinion

Security and travel advice

Takaful

Takaful health

Telehealth

Term life

Top up covers

Travel insurance

Underwriting

Virtual doctors

War risks

Wearables
Volume 2 Companies
National, regional and local insurers and brokers
Base country

HQ

Ownership

Overview

Structure

Insurance

Healthcare

Customer numbers

Strategy

2018 results

2019 forecasts

Buying businesses

Selling businesses

Failed deals

Partnerships

Sponsorships

Micro health

Products

Apps

Marketing

Technology

Start-ups, accelerators and labs

Countries A to Z
Company profiles
A Plus

Abacare

Achmea

ADNIC

AIA

AIG

Aetna

Ageas

Alan

Allegiant

Alliance Group

Allianz

Amariz

Amazon

Anbang

Antae

Anthem

AON

Apple

APRIL

Ardonagh

ASSSA

Aviva

AXA

Bellwood Prestbury

Berkshire Hathaway

Blue Cross

Blue Cross Blue Shield

Bupa

CCW

Chubb

Cigna

Clements Worldwide

CM International

Collinson

CXA

DFV

Daman

DavidShield

Discovery

Doha Insurance

Exclusive Healthcare

Expacare

Expatriate Group

Fairfax

Fosun

Freedom Health

Gallagher

General & Medical

Generali

Global Benefits

Global Underwriters

Great West Lifeco

Gulf Insurance Group

Haven Healthcare

Healix

HealthCare International

Henner

Humana

Integra Global

Jubilee

LAMP

Liberty Mutual

Lloyds

Lockton

Malakoff Médéric Humanis

MAPFRE

Marsh McLennan

Medgulf

Medibank

Medicover

Met Life

MMI

Morgan Price

Munich

Mutua Madrilena

National Life and General

New India

nib

NN Group

Now Health International

Nugent Sante

Old Mutual

Oman Insurance

Pacific Cross

Pacific Prime

Pan-American Life

Premier Group

Primary Group

Punter Southall

Qatar Insurance

QBE

RBI Premium

Regency Assurance

Saham

Saico

JW Seagon

Seven Corners

Siaci Saint Honore

Sompo

Starr

State Life

Status Global

Swiss Global

Swiss Life

Tokio Marine

UnitedHealth

Union Insurance

Vienna Insurance

WAFA

William Russell

Willis

Zhong An

Zurich
Volume 3 countries
Country profiles look at:
* Healthcare, healthcare reforms and price controls
* State health insurance and planned reform
* Compulsory health and travel health insurance and planned reforms
* Private health insurance and supplementary covers
* Health insurance regulation and planned reform
* Health insurance price regulation and planned reform
* Specific data and requirements for expats
COUNTRY PROFILES
Healthcare

Healthcare for expatriates

Healthcare regulators

Healthcare regulation

Healthcare price regulation

State health insurance

State health insurance top up

Compulsory health insurance for locals

Compulsory health insurance for expatriates

Compulsory health insurance for overseas students

Compulsory travel health insurance for visitors

Health insurance for locals overseas

Private health insurance

Insurance company and broker regulators

Health insurance regulation

Health insurance price regulation

2019 population

2030 population estimate

UN 2017 number of international immigrants- inbound

UN 2017 number of international emigrants- outbound

UN numbers of refugees

Local figures on expatriate numbers

Local figures on expatriate sources

Local figures on Diaspora

Leading local health insurers

Head office of leading health insurers and brokers

International health insurers/ brokers/agents activities
COUNTRIES
Abu Dhabi

Afghanistan

Albania

Algeria

Andorra

Angola

Antigua

Argentina

Armenia

Australia

Austria

Azerbaijan

Bahamas

Bahrain

Bangladesh

Barbados

Belarus

Belgium

Belize

Bermuda

Bolivia

Bosnia

Botswana

Brazil

British Virgin Islands

Brunei Darussalam

Bulgaria

Burkina Faso

Burundi

Cambodia

Canada

Cayman Islands

Chile

China

Colombia

Costa Rica

Croatia

Cuba

Curacao

Cyprus

Czech Republic

Denmark

Dominica

Dominican Republic

Dubai

Ecuador

Egypt

Estonia

Ethiopia

Fiji

Finland

France

Georgia

Germany

Ghana

Gibraltar

Greece

Grenada

Guatemala

Guernsey

Guyana

Honduras

Hong Kong

Hungary

Iceland

India

Indonesia

Iran

Iraq

Ireland

Israel

Italy

Jamaica

Japan

Jersey

Jordan

Kazakhstan

Kenya

Kuwait

Kyrgyzstan

Latvia

Lebanon

Lesotho

Libya

Lithuania

Luxembourg

Macau

Macedonia

Malawi

Malaysia

Maldives

Malta

Mauritius

Mexico

Moldova

Monaco

Mongolia

Montenegro

Morocco

Mozambique

Myanmar

Nepal

Netherlands

New Zealand

Nicaragua

Nigeria

Norway

Oman

Pakistan

Panama

Papua New Guinea

Paraguay

Peru

Philippines

Poland

Portugal

Puerto Rico

Qatar

Romania

Russia

Rwanda

Saint Kitts And Nevis

Saint Lucia

Saudi Arabia

Serbia

Sierra Leone

Singapore

Slovak Republic

Slovenia

Somalia

South Africa

South Korea

Spain

Sri Lanka

Sudan

Swaziland

Sweden

Switzerland

Syria

Taiwan

Tanzania

Thailand

Trinidad And Tobago

Tunisia

Turkey

Turks And Caicos

Uganda

Ukraine

United Arab Emirates

United Kingdom

Usa

Uruguay

Venezuela

Vietnam

Yemen

Zambia

Zimbabwe