Global Expansion Of 2nd.MD Innovative Expert Opinion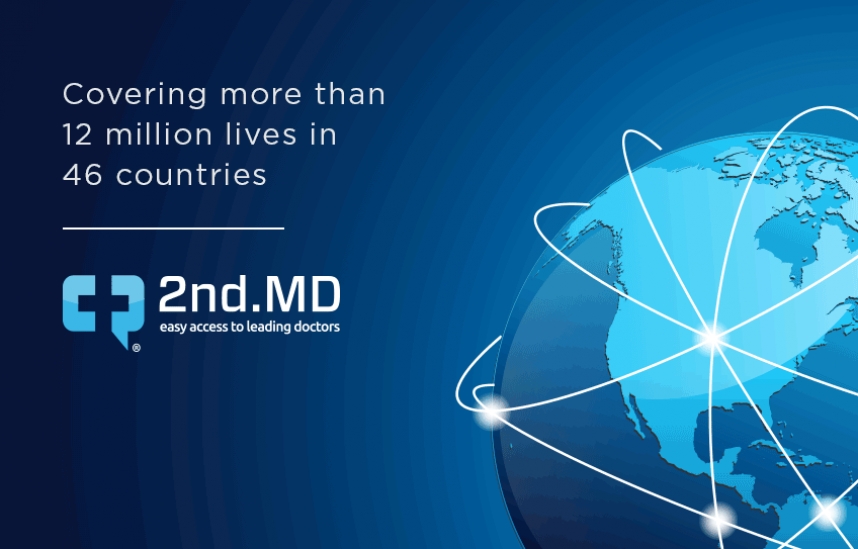 Second opinions can save lives, and that's exactly what 2nd.MD is doing by facilitating interactive video consults in the second opinion marketplace. Now reaching 46 countries and covering more than 12 million lives, 2nd.MD performs more expert medical consultations than any other service in the market.
Facts and Figures
The facts of misdiagnoses and medical error are startling. In the United States alone:
Medical error and misdiagnosis is now the third leading cause of death.1
A study published in April by the Mayo Clinic found upwards of 88 percent of patients who obtained a second opinion had a change in their diagnosis or plan of care2.
An estimate one in 20 primary care visits involves a preventable diagnostic error, half of which are potentially harmful.
Medical error and misdiagnosis are major contributors to health care waste, carrying a staggering cost of $1 trillion annually.3
The rest of the world is not immune to the same financial and care quality realities associated with misdiagnosis and other preventable medical errors. According to The World Health Organization, patient safety is a serious global health issue. Mistakes that occur in ambulatory settings, hospitals and through prescribing are pervasive. Troublesome statistics underscore the significance of this issue.
60% of patients in five countries with highly advanced healthcare delivery systems –Canada, the United Kingdom, Australia, New Zealand, Germany – have reported an ambulatory care medical error.4
In the United Kingdom, 8 to 12 percent of hospitalizations are a result of outpatient care medical errors.5
A reported 2,500 patients in the Kingdom of Saudi Arabia and 36,000 patients in Korea die every year due to medical error.6
While the actual human toll of medical error can never be measured, the financial cost contributes to an escalating global medical inflation rate of 7.8 percent.7 While other factors are involved, such as aging populations and poor lifestyle habits, the high cost of preventable error is a key component in the yearly trend increase worldwide.
To offset the rising trend, employers and insurers are increasingly applying traditional cost management and cost sharing strategies to their global populations. Multinational employers are expanding wellness and preventative care offerings and shifting a higher cost burden to their employees. Insurers are narrowing provider networks and incorporating pre-approval requirements for certain surgeries and hospitalizations.
The Value of A Second Opinion
Second opinion services are helping global insurers and multinational corporations address the cost, care quality and quality of life implications of diagnostic and treatment plan inaccuracy.7 Partnering with these entities, 2nd.MD delivers life-saving services for their expatriates and local national populations.
Already well established in the U.S. as an industry leader and innovator in the expert second opinion marketplace, global insurers and multinational employers are increasingly partnering with 2nd.MD to deliver these services for their expatriates and local national populations.  2nd.MD's innovative approach appeals to organizations looking to supplement benefits as a result of a number of key differentials:
Expert second opinions are facilitated via a face-to-face video interaction between members and leading medical experts, and can be instantly translated
Live expert consults and memorialized recommendations are delivered within a few days of a referral compared to waiting weeks or months for a written report
The speed of delivery provides members facing surgery with critical information regarding less invasive treatment options – 34% of surgeries are voluntarily canceled by members after speaking with a 2nd.MD expert
The process is driven by web-enabled technology and a mobile app, making it easy for global participants to access
Significant global growth is predicted for in 2018 fueled by 2nd.MD's consistency in delivering measurable financial and quality of care results:
22% of consults result in a change in diagnosis
70% have a change in their treatment plan
Overall financial return on investment typically surpasses 2:1, with a 10 – 20x return for high impact conditions
2nd.MD's expert opinion solution is an important benefit addition for global insurers and multinational employers looking for an effective strategy to improve care quality and reduce costs. And far from being viewed as yet another approach that restricts options or increases cost sharing, members living abroad who have access to 2nd.MD are enthusiastic supporters of a benefit that is meaningful, provides peace of mind, and literally save lives.  
About 2nd.MD
2nd.MD facilitates direct interaction for an expert consult via video or phone between world-renown specialists and members residing anywhere in the world. Answers to questions about complex or uncertain diagnoses, optimal treatment plans and surgical avoidance alternatives are delivered within days of the referral. A dedicated 2nd.MD nurse assists each member, simplifying the process and ensuring an excellent experience.
back to top